Corby Business Academy's library wins award
30/04/2015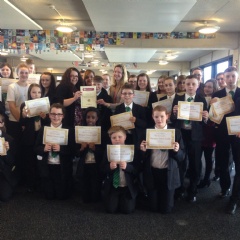 Corby Business Academy has been honoured with the county's highest award for libraries for its efforts to promote reading.
Northamptonshire's Gold Library Award is only presented to schools which have achieved the highest standards and the Academy received it for its librarians' efforts to encourage a love of reading and support students with their research.
The awards assessor was particularly impressed with CBA's modern facilities and how its staff engage with all students through an exciting range of activities including book awards, author visits and literacy initiatives.
CBA Librarian Amy McKay said: "This is a very prestigious accolade and we had to fulfil a wide range of criteria to win the top award.
"I think we are only the third school in the county to receive it so it is a huge honour for us.
"We work very hard and it's lovely to have this recognition."
To celebrate their achievement Miss McKay and Assistant Librarian Christina Mangin held a special event to thank all the students who play an active role in the life of the Library.
The Library's We're Gold, Because You're Gold awards were presented to the 100 students who use the facility the most.
Miss McKay said: "We have a lovely Library because we have such nice students.
"We wanted to thank them for everything they do so they could join in with the celebration."
The students received certificates and prizes.
The Northamptonshire Gold Library Award was presented to the Academy by Learning Resources for Education, Northamptonshire County Council's schools library service, which launched the School Library Award in May.
County council cabinet member for Learning, Skills and Education Cllr Matthew Golby said: "A good school library can play an important role by teaching pupils how to do independent research and providing a place where they can do quiet study.
"This Gold Library Award is thoroughly deserved by the Library staff at Corby Business Academy and I hope other schools will follow their example and recognise the need to place libraries at the heart of the school environment."
(Pictured above are CBA Librarian Amy McKay and Assistant Librarian Christina Mangin receiving Northamptonshire's Gold Library Award from Principal Children's Librarian for Northamptonshire Adele Finch in front of our students with their We're Gold, Because You're Gold awards)