Wisbech competition winners meet author
22/03/2018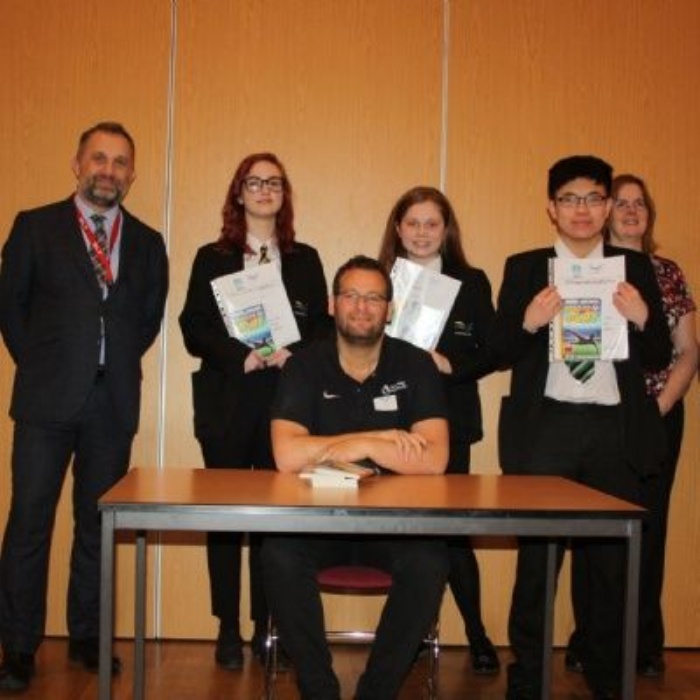 The winners of a Wisbech-wide creative writing competition got the chance to meet popular author Dan Freedman at Thomas Clarkson Academy.
The Academy's librarian, Debbie Trafford, recently invited Wisbech primary schools and TCA students to take part in a short story competition entitled 'They Think It's All Over', on behalf of Wisbech Reads.
The winners paid a visit to the Academy to collect their prizes, which were donated by Wisbech Rotary Club, and met Dan, a former sports journalist, who is no
w the author of the Jamie Johnson series.
The entries, which were judged by Margaret Barwell and Mike Theobald from Rotary, and Louise Aldridge from Wisbech Library, were considered for their creativity, originality, reader engagement and use of literary devices.
The winning entries from primary school students were:
1st prize: Finn Joseph Warren (Leverington Primary Academy)
2nd prize: Vladimir Smirnovs (Peckover Primary School)
Runners up: Katya Haggett and Isabel Little (both Peckover Primary School).
There were also three highly commended awards handed out to Peckover students Maya Smith, Maisy Webb and Jack Williams.
The TCA winners were:
1st prize: Edward Phoon
2nd prize: Anna Ivaskevica
Runner up: Lillie-May Groves.
The winners were invited to meet Dan when he visited the Academy recently, when he also gave a presentation about his career to Year 8 students.
Mrs Trafford said: 'Dan is a very popular author, and his links with Premier League footballers made this a particularly exciting visit. Dan told us how his first book kept being rejected and it took three years before it was finally published. He suggested that no-one should be deterred by "failure", that you should use it as a learning experience and an opportunity to try another way of doing things because eventually, it will lead to success.'
Ms Barwell added: 'This was a really valuable opportunity for young people to reflect on their own views about reading and enjoy books in such a positive and constructive light. I am sure they were excited and inspired by Dan.'
The event was supported by the Academy's Library Ambassadors.