BWT welcomes Executive Educators
05/10/2018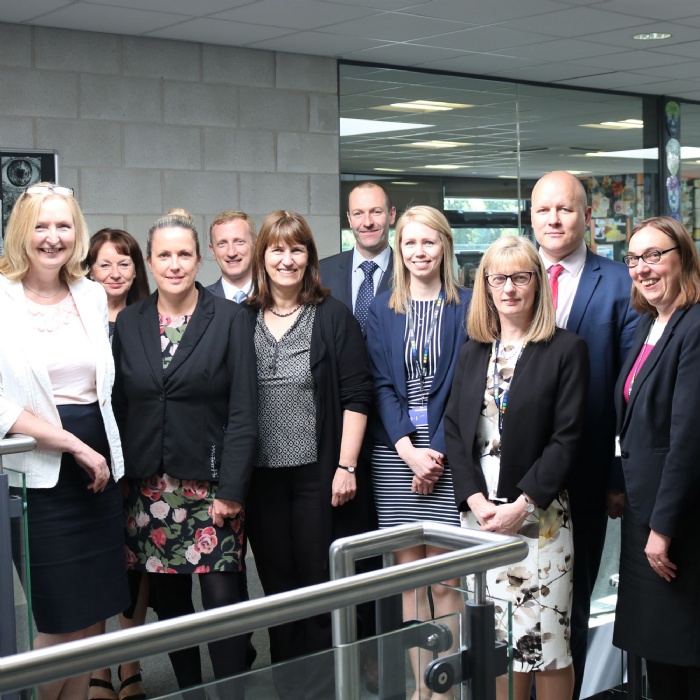 The Brooke Weston Trust welcomed senior educationalists and CEOs on an Executive Educators programme run by Ambition School Leadership.
The delegates, from schools and Multi Academy Trusts from all over the country, were on a fact-finding visit to Corby Technical School to learn more about the school, the Trust and talk to our CEO, senior staff and members of the Central Team.
The day comprised an overview of the Trust and key elements including Health and Safety, School Improvement and Performance, Safeguarding and Finance.
The delegation was accompanied by James Ogden, Ambition School Leadership's Area Director for the West Midlands and South West. He said: 'The Executive Educators programme helps the next generation of our leaders, we have two versions, one for those who are, or who are aspiring to be Executive Head Teachers and the other for CEOs leading MATs. Generally it is about moving from three to four schools up to nine or ten and looking specifically at the challenges of that growth. The purpose of the visit was to allow people to have a real practical example of a Trust that has grown, to talk about some of the growing pains and digging into details of its core operations.
'The Executive Educator programmes have lots of CPD and coaching and one of the features is that delegates get to visit MATs. What is great about visiting Brooke Weston Trust is that a lot of participants come from smaller regional MATS while some of the other visits are on larger MATs like ARK, so it is good for them to come to different regions and see a MAT that has recently been through that period of growth.'
Tim Croft, Principal of Sutton Community Academy in Nottinghamshire, said: 'It is really nice to get out in the field and see theory in practice, to see good practice in lots of different MATs across the country and forming my own views as to what MAT leadership looks like. It is very much a pick and mix approach to see which bits fit well within your own context.
'Today has been really useful, because, in this climate when Trusts are relatively new, we want to learn from the mistakes of the original MATs. Certainly the structure that is in place now at BWT has evolved over time but, based on the models out there it looks like a pretty secure structure to achieve functional decision making.'
Kate Turnpenney, a Headteacher whose north London primary school is applying to become part of a five-school MAT said: 'It is always good to learn from different settings but for me it is about the governance and the way the whole structure is organised behind the scenes because that is the bit we are going to have to set up as we are five schools coming together with our own systems. We are just starting on the journey so it is really useful for key things like Health and Safety, which is going to be massive. This is the beginning of a long evolution and lots of learning curves.'
CEO Dr Andrew Campbell said: 'This was a great opportunity to welcome delegates from other schools and MATs, tell them more about our operation and share best practice and strategies that are working well. Thank you to the Trust and Corby Technical School staff who supported this visit and shared their knowledge and expertise.'