Oakley Vale are this year's Trust attendance champions
19/06/2018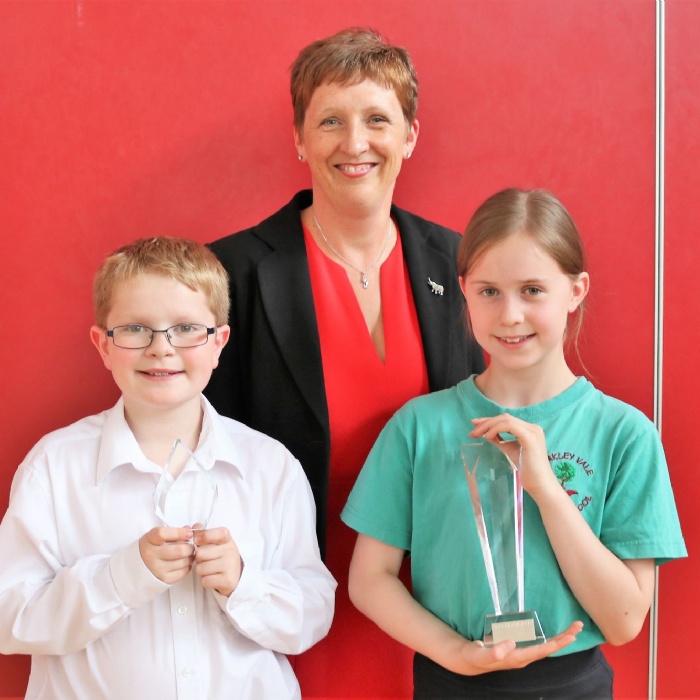 Congratulations to Oakley Vale Primary School who have been crowned this year's Trust Attendance champions, beating Gretton Primary School by the very narrowest of margins. Oakley Vale had an excellent attendance rate of 96.51% while Gretton were just behind with 96.5%
Oakley Vale's students were congratulated by Principal Emma Goodwin in a special assembly and the school was presented with two trophies – one for best attendance for a Trust primary, and the other for having the best figures from across all ten of our schools.
Primary Executive Principal Leyton Smith presented Education Welfare Officer Julia Baulch and Education Welfare Assistant Geraldine Edge, with the Trust trophy on behalf of Beanfield Primary School, who were last year's attendance winners.
One of the interventions that has been introduced at Oakley Vale was Morris the Monkey. He spends a week with the class that has the best attendance and the children are very keen to have him in their rooms as he can be quite naughty and turns up in the most unexpected places!
Swifts class had the best attendance this year, and Morris visited them for seven weeks. They were presented with a certificate and they will be allowed to plan their very own celebration as a reward.
Mrs Baulch said: 'We introduced Morris in September and he has proved very popular. He goes on school trips and the children use him around work in the classroom. Swifts' teacher has been very proactive in using Morris for literacy and numeracy work.'
After receiving the Trust trophy Miss Goodwin said: 'This is a very proud moment for the school and I'd like to thank Julia and Geraldine for all their hard work in attaining this figure, working alongside our staff and families to highlight the importance of regular attendance and making sure that issues like lateness or regular absence are addressed quickly and sensitively.'
Senior Education Welfare and Safeguarding Officer Martine Boyd said: 'The student welfare and attendance teams across our Trust schools work tirelessly across the year to continually improve our attendance figures, stressing to parents the importance of having their children in school and on time. The schools all want to win the attendance award and the fact that just 0.01% separates the top two places show how seriously our staff take this issue. Congratulations to Oakley Vale Primary, and particularly to Julia and Geraldine who are a great team. They have set the benchmark for other schools to aim for.'
To see more pictures click here.