Oakley Vale students complete commemorative mosaic
20/06/2018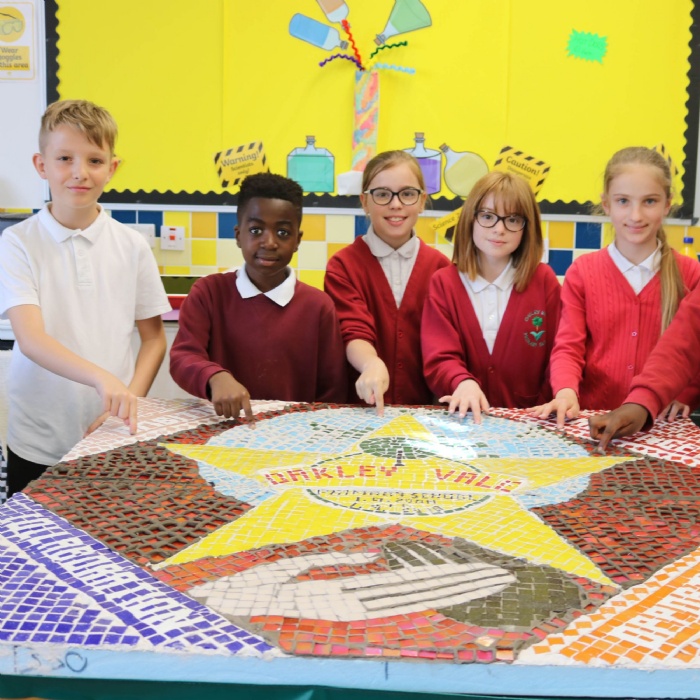 Students at Oakley Vale Primary School created a piece of history by creating a colourful mosaic to commemorate the school's 10th anniversary.
The project, which has been months in the planning, has resulted in the large scale artwork which will be officially unveiled at the school's summer fair next month. Students came up with design ideas and the School Council decided to amalgamate a design by Fabrianne from Year 6 with another by Year 5 student Grace.
Artist Christy Burdock oversaw the mosaic's creation, working with students from reception to Year 6. She said: 'The children have been absolutely brilliant, everybody had a go and it took all day to make. The design was the children's own and we laid it out in sections on plastic and cemented it down. The best part of doing mosaics is the children's drawings, they are always wonderful!'
Principal Emma Goodwin said: 'The mosaic is a lovely way of celebrating our 10th anniversary and it is a really bold, colourful design that reflects the vibrancy and warmth of the school and the collaboration and opportunities that we offer. The fact that the all of our children played a part in making it means it is very personal and it will be a very special feature of our school for many years to come.'
To see more pictures click here.