Congratulations to Peckover staff on their graduation!
24/07/2018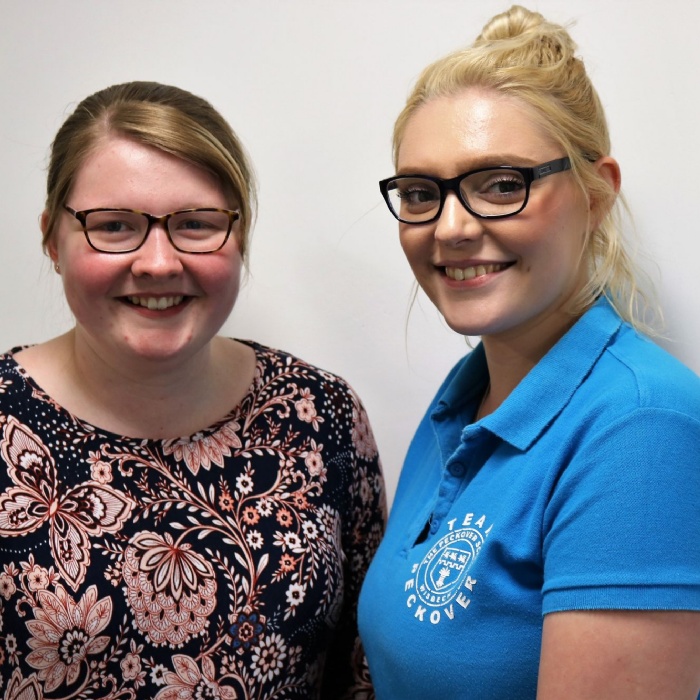 Congratulations to two young staff members from Peckover Primary who have just graduated with degrees in Applied Education Studies. They completed their part-time degrees alongside full-time work as Teaching Assistants at the school.
Lily Tombleson and Joanne Johnson completed the four-year course with the University of Bedfordshire where they attended college for four and a half hours per week. Both worked at Peckover and didn't want to go away to university to study, so the course fitted in around their existing work commitments and they could use what they learned immediately.
Lily said: 'I started working here and got a salary, thought this is quite nice and then thought I really want to be a teacher but can't afford to take the time out. I have done a degree, got a house and it is because I have been working at the same time. I would go to university on a Tuesday evening and learn a behaviour strategy and on Wednesday morning come in and put it straight into practice. It was just brilliant!'
Joanne, who works as a TA in Reception, added: 'I did a childcare course at college first and didn't want to go away to study so we found this course and did it at the same time. I used my experience here to write my dissertation. I would recommend this to other people as it allows you to work and study at the same time and other people from Peckover have already got their degree via this route and others are in the third year and will graduate next year.'
Their studies took place at Arthur Mellows Village College in Peterborough and their graduation was held at Putteridge Bury Conference Centre in Luton. Joanne is now going to study for her Science GCSE before taking further teaching qualifications while Lily is going to do a one-year PGCE course to become a fully qualified teacher. She will work at another school 20 days to broaden her experience however, she would love to stay at Peckover as she said: 'I love the ethos of this school.'
Principal Carrie Norman said: 'I am very proud of Lily and Joanne. They started with us as teaching assistants and soon began to study for their degree whilst working. They have gained lots of experience as HLTAs, which has helped them with their course. I am sure they will go on to make very competent class teachers; we are looking forward to helping them gain their QTS.'