BWT offers support for development of Red Kite Academy
11/02/2018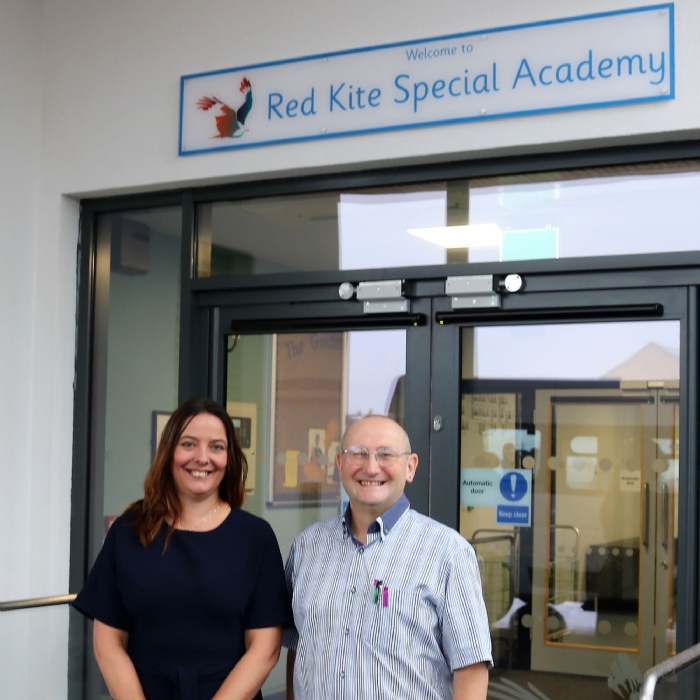 The Brooke Weston Trust has provided support and advice to the team behind the new Red Kite Academy, a special school which is being officially opened in Corby today.
The Academy provides high quality education for children with a range of needs, including Profound and Multiple Learning Difficulties, Severe Learning Difficulties and Autism Spectrum Disorder.
Its construction was spearheaded by Tom O Dwyer, Head Teacher at Kingsley Special School and his team, including Donna Luck, his counterpart at the new Academy. Key members of the Brooke Weston Trust have acted as consultants for the project, which has been three years in development.
CEO, Dr Andrew Campbell, Finance Director, Debbie Tysoe, Head of Analytics, Systems Performance and Innovation John Henrys, Estates Director, Matt Isherwood and IT Director, Matt Robbins, all offered advice in their own specialisms. Debbie and John are also Board Members at the school, which opened in September with 63 students on roll.
It is built around a central corridor, with separate wings for the primary and secondary classrooms. Facilities include a hydrotherapy pool, independent living flat, soft play area, sensory room, kitchen, art and DT studios, hall, gym and music room. There are also specialist medical and therapy rooms and an on-site nurse. The Academy, in Purbeck Drive, has been designed with easy vehicular access, allowing parents to drop children off directly at their classrooms.
The team worked closely to make the school as free flowing and functional as possible, taking lessons learned from flaws in existing schools to create a learning environment to meet the specific and exacting needs of its students.
Tom O Dwyer said: 'At Kingsley about a third of our cohort of 100 came from Corby and it was stressful for them to get to school with the travelling, waiting and parking, meaning that families were losing around two hours of respite time per day. When the go-ahead was given for a special school we submitted a proposal, as did Brooke Weston Trust, however at the consultation phase we decided to join forces and share our specialisms; BWT's was in building schools and establishing a Multi-Academy Trust and ours was in offering outstanding special education.
'Without having Dr Campbell in the background we wouldn't have had a hope of getting through the process and he offered us representation on our Board with John Henrys and Debbie Tysoe. They have been absolutely fabulous. Debbie has really kept us on the straight and narrow and John has an understanding for what we do at a deep level.
'Matt Isherwood is very methodical and challenged us again and again to design out the issues that had been problematic at Kingsley for years. Matt Robbins advised on ICT. It was a phenomenally detailed and complex commissioning process. The whole team from Brooke Weston Trust was amazing.'
Brooke Weston CEO, Dr Andrew Campbell said: 'It was a privilege to work alongside Tom and his team to bring this ambitious project to life. Tom, Donna and the Kingsley team have values that are very much aligned to our Trust ones, of providing the very best education for every child in our care. The Red Kite Academy and its staff embody this in Corby and they are already working alongside our DSP units in Beanfield Primary School and at Corby Business Academy.
'Tom and Donna have been incredible and committed professionals to work with and our collaboration has been very positive, yielding so many benefits for the children and families in Corby. This partnership is one that will continue to grow and flourish in the years to come.'