The fourth Brooke Weston Trust Big Annual Quiz
21/06/2016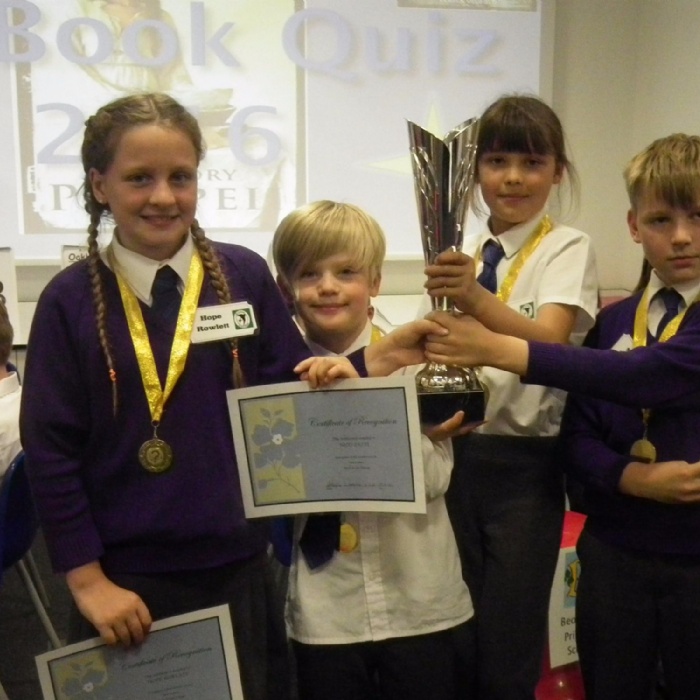 The fourth year of the Trust's annual book quiz was yet again another closely contended event.
Teams of Year 5 pupils from four of the Brooke Weston primary schools battled it out in the book competition with the Gretton Primary Academy team winning this year's prized trophy.
Event organiser Jane Hughes from Kettering Science Academy Primary said: "The quiz was a tightly contested right up until the last few questions again and you could feel the tension in the air.
Everyone has enjoyed it and the different genre of books that were chosen for them broadened the their reading experience. Thank you once again to all the schools who took part and supported the Trust's event."
Each school that took part in the quiz was given a book to read in the run up to the competition and the first round tested each team member individually on their knowledge of their school's book (without any conferring).
Then pupils in round two were allowed to answer as a team on the book Pompeii by Sue Reid, that all the schools had been also asked to study.
After a break for lunch, the teams then returned for the third and final round of the quiz, the quick fire and fastest on the buzzer round.
The contestants were tested on their general knowledge of popular books including questions on Harry Potter, The Diary of Wimpy Kid, Winnie the Pooh and Horrid Henry.
It was a tense final with KSA's lead being challenged by Beanfield towards the end and then finally overtaken by Gretton, who answered the last two questions correctly to crowned the champions.
Certificates were presented to all who took part and the third, second and first place winners also received medals.