Primary students transported on virtual reality school trips!
30/03/2017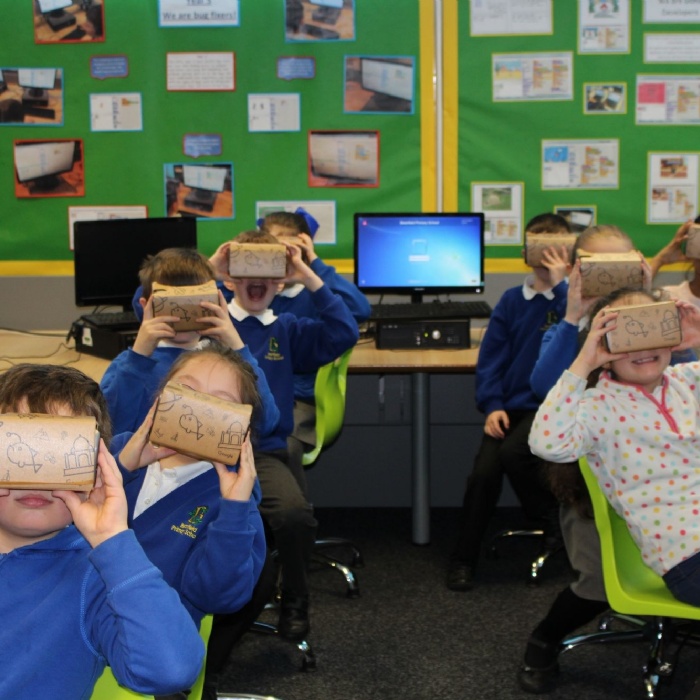 Google Expeditions visited Beanfield Primary to take students on an immersive virtual-reality school trip, based on the UK curriculum. With Google Cardboard (a virtual reality viewer) students explored from ancient Egypt to the Great Barrier Reef and Antarctica without ever leaving the classroom, bringing the world to life.
While nothing replaces a school trip, students experienced an unparalleled opportunity for learning. A box arrived with everything needed to travel: a tablet for the teacher, and Cardboard viewers and phones for every student. Teachers chose destinations in line with the topics that each class was learning and the entire classroom jumped there automatically.
In order for teachers to seamlessly include these expeditions in their lessons, Google partnered with Twig and TES to tailor the content to the UK curriculum with easy-to-use lesson plans.
Year 4 teacher Ms Charlotte Johnson said, 'We chose which expeditions we wanted to go on; Egypt as that is our current topic, Antarctica and Year 3 are going on an ocean safari to The Great Barrier Reef. When students looked through their Cardboard, the look on their faces was incredible and their attention was hooked. The lesson was brought to life in a unique way. They have seen pictures in books but have experieneced nothing like this, it transported the whole class to the destination.
'All of Year 3 and 4 have two half-hour sessions on different expeditions. The idea is that we run the trip and give them facts at the same time, so they are learning as well as seeing. It is amazing and this kind of technology is not something that we have within the school so to be able to experience this is so exciting.'
One Year 4 student said 'This is totally amazing. We are travelling around Egypt just by looking through a box. It feels like I'm actually there. I wish I could keep it!'
Mr Roger Best, Team Leader of Google Associates, said 'We are taking Google Expeditions to schools all around the country. It's all part of Google Education as we want to give something back. As it's an educational tool it makes sense to bring it into schools and allow students to experience something different. The future has so many possibilities as the technology is accessible to so many subjects in primary schools, secondary schools, even at university level, it allows people to study a huge range of topics in greater depth and understanding.'
Expeditions is part of a broader commitment announced by Google CEO Sundar Pichai, to reach one million students in the UK through the programme while also supporting teachers by providing training in how best to make the most of technology in the classroom. Teachers can sign up to have the road show visit their school until the end of spring 2017.