Trust students perform at 'Big about Corby' community event
30/05/2017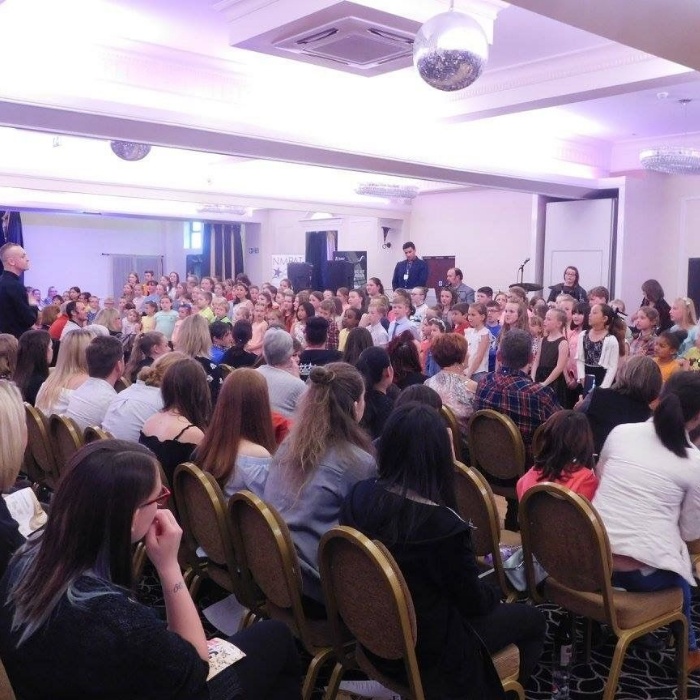 Students from Beanfield and Oakley Vale Primary Schools took part in community entertainment evening 'Big about Corby' together with Rockingham and Studfall Primaries, NMPAT Community Band, Lesley's school of Highland Dancing and some solo artists, to raise money for local charity Lakelands Hospice.
The event, organised by Beanfield's Student Welfare Assistant Callum Reilly, was a complete sell out and took place at Best Western Rockingham Forest Hotel. The four schools came together as a mass choir to perform a repertoire of songs they had been learning over the past few months backed by a live band made up of local artists.
A bagpiper started the evening and piped everybody in after which the children sang 'Flower of Scotland' re-written about Corby. During the night the schools sang a total of six songs about self belief and empowerment including; 'Lean on Me,' 'Something Inside so Strong' and 'You've got a Friend in Me.'
Rehearsals began in the afternoon and were a chance for all of the students to meet for the first time. They wore different coloured T.shirts so the room was awash with colour.
Callum said 'The atmosphere during the evening was phenomenal. It was such a supportive environment and was about so much more than making music it was making new friendships, and developing new skills like team work and self belief which is so important. Everyone completely exceeded all my expectations. I have been teaching the students the repertoire of songs for weeks and the way all of the schools came together and evolved over the months has been amazing.
'The community all worked together to help put on this event, from the acts involved on the night, the local business donating prizes for the raffle and the audience buying the tickets for the evening, everyone helped to make it a success. I hope that it has helped raise awareness of the arts and shows that there is so much talent in Corby and this was just a glimpse of it. I have had such positive feedback from the night and may look to make this an annual event.'
Over £1,300 was raised through ticket sales and the raffle, which will be donated to local hospice Lakelands.