Whole school careers day success
07/05/2017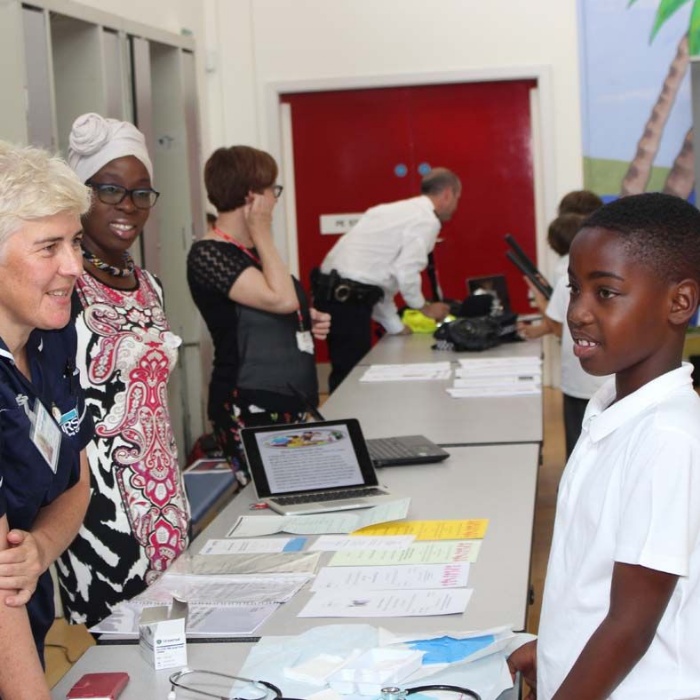 Oakley Vale Primary held a whole school careers day where students as young as reception were able to speak to a variety of people about the different career paths available to them.
The purpose of the day was to begin to prepare the students for their future and give them as many different opportunities to find out about a variety of careers and start planning their journeys into adulthood.
The hall was set up with stalls where students could rotate and ask questions about the different careers. There was a huge variety ranging of roles from managing directors, police, author, bank manager, charity work and DJ. Fire fighters gave a talk and students saw a fire engine up close on the playground and had the opportunity to use the fire hose. Year 6 students received an information session about the Job Centre and they had a question and answer session with Dr Andrew Campbell, CEO of the Brooke Weston Trust.
Deputy Head Mrs Nikki McDonald said 'We decided to hold the careers day as we want to prepare our students for the future and help them to have inspirational dreams. It is important for even children as young as reception to see how education is linked with future careers and I think the earlier they start to think about that the better. At the very least they will be aware of services within their community that they can be a part of.
'The day has been a huge success and the best part has been that we have had so many parents that have been able to support us who are very successful career people themselves. It has been something that the whole community has been involved in which is fantastic and we hope to be able to do this again in the future.'
Year 5 student Skye Davies-Madden said 'Careers day has been amazing. It was really interesting to find out about all the different jobs you can do when you are older. I've really enjoyed talking to the police officer and DJ because they seem like fun and cool jobs.'
Firefighter crew manager Jamie Law said 'We wanted to be involved in the careers day because it's a nice opportunity for the students to not only see what we do but the range of different career opportunities available. Being a firefighter is a really rewarding job and it's good for students to know what we do, why we do it and how we do it so there is a wide range of people who want to join.'
Dr Andrew Campbell said 'It's really inspiring to see children so interested in their futures. I think it has been a fantastic effort by the school to offer such a wide range of different and interesting people for the careers day. I really enjoyed answering the questions from students; it showed that there has been plenty of research and thinking gone in to making the most of the day and I hope to do it again next year.'