Mathematician receives a Merit in prestigious national contest
27/01/2015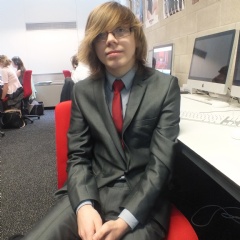 A mathematician has ranked in the top 25% of 3,000 students who took part in a national competition.
Year 12 student Josh Champion, 17, received a Merit after he competed in the prestigious Senior Kangaroo competition which is run by the United Kingdom Mathematics Trust (UKMT).
Josh was invited to take part in the competition by the UKMT after he impressed their judges in an earlier contest.
He said: "The Senior Kangaroo was a hard competition. The questions were very complicated but I enjoyed the challenge of the contest.
"I didn't expect to do as well as I did and I was very pleased when I found out I had been awarded a Merit."
Josh, who is studying Mathematics, English, Business and Art, will receive his certificate this month.
CBA Assistant Director of Mathematics Maxwell Sam said: "We would like to congratulate Josh on his achievement.
"He has made himself proud, and our Academy proud, by being in the top 25% of competitors in this national competition."
The Senior Kangaroo is an invitation only competition which consists of a one hour paper that is sat in school.
Certificates of Merit are only awarded to the top 25% of students who score 65 or above in the competition.