Life-saving gift given to Thomas Clarkson Academy
29/01/2015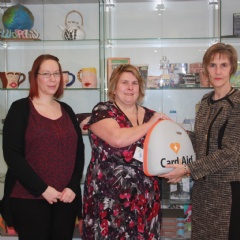 Thomas Clarkson Academy has been given a life-saving piece of equipment which will benefit the whole community.
Mags Etherington, manager of Fenland Catering Service, presented a defibrillator to Principal Clare Claxton and Head of History Lucy-Beth Heighton.
Mrs Etherington raised £800 for the machine through events at Wisbech Rugby Club where she is also catering manager.
She said: "We did first aid training at Wisbech Rugby Club and thought it would be a good idea to get one. I run lunches where 20 to 40 ladies get together and have a meal. Any money we made from our raffles went towards this."
The group raised £800 which was enough to buy two defibrillators from charity Community HeartBeatUK and decided that one should be donated to the school.
Principal Clare Claxton said: "There are 1500 people in the building during the day at TCA and hundreds come and go in the evening through our evening community lettings. I hope we never have cause to use the defibrillator but it's fantastic to know it is there. It is so easy to use as once the lid is open the machine has voice activated instructions. What an amazing piece of equipment!
"We are so grateful to Mrs Etherington and Wisbech Rugby Club. It is our intention to raise money at school to donate towards the purchase of another defibrillator machine."
Lucy-Beth Heighton, head of history and first aider at TCA said: "It is massively important for there to be access to defibrillators in the community and we are delighted that we now have one here, available to anyone that needs it."
12 young people die each week from heart related problems. Following a cardiac arrest the chance of survival decreases by 23% per minute. It is therefore very important medical treatment starts as soon as possible.
An Automated Electronic Defibrillator is a portable defibrillator especially designed for people with no medical background. When applied to the victim, voice commands and screen messages will guide the user step-by-step through the process and its intelligent technology will only allow it to shock a 'shockable' heart rhythm.