CBA sixth formers are interviewed by business leaders
03/09/2015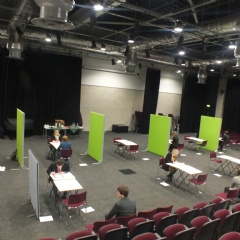 Key business leaders gave up their time to carry out mock interviews with 70 Sixth Formers at Corby Business Academy.
The event was held during the Academy's Curriculum Day and gave the Year 12 students a chance to develop their interview skills in a safe environment.
Following the interviews each of the students received feedback from their interviewer.
The interviewers included RS Components Inventory Liaison Team Manager Sarah Wilkin.
She said: "I wanted to support this scheme because the ability to interview well is crucial for any young person whether they use it for applying for roles or to reflect on what they have achieved so far in life.
"This experience has given the students the opportunity to develop their interview skills in a safe environment.
"Quite often young people believe they don't know anything. This initiative helps them to recognise the skills they have learned and the life experiences they have and translate them into something useful in the adult world.
"The interviews I conducted with the students went very well.
"The students were approachable, capable and confident and I'm sure they will do well."
Fellow interviewer RS Components Global Content Editor for Cable Accessories Juliet Rogers added: "The mock interviews were a real success and I thoroughly enjoyed the experience.
"All of the students were very polite and a credit to the school."
Sixth Former Daniel Bottrill was one of the interview candidates.
He said: "This was the first interview situation I had been in and I found the feedback very useful.
"I hope to go to university and I think this experience will help me with my application."
CBA Business Teacher Alex Allan said: "We would like to say a massive thank you to all the business people who took part in this event."
The interviews were conducted by several employees from RS Components, independent retail consultant Bridget Watts and Building Services Design's head of communication and human resources Amanda McCormick.