Year 9 students experience university life
23/04/2015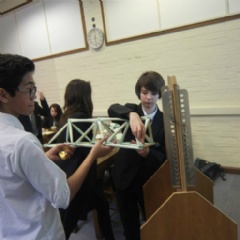 An exciting new project has been launched to give all our Year 9 students the chance to learn about university life.
A group of 15 students took part in our first Year 9 university trip when they visited Cambridge University's Pembroke College and Department of Engineering this month.
Year 9 Tutor Mark Bidwell said: "Cambridge and Oxford universities in particular consider applicants' GCSE results. We hope by giving our Year 9 students the chance to visit universities now it will show them that the decisions they make now can impact on their futures.
"Our students loved the visit and a number of them are very keen to study at Cambridge.
"All our students were a credit to our school. The university was very complimentary about the behaviour of our young students."
During the visit our students toured Pembroke College and the Department of Engineering, looked at a number of student projects, were challenged to make a crane jib, learned about the courses which are on offer and looked at a variety of student timetables.
Year 9 student Scott wants to be a mechanical engineer and would love to study at Cambridge.
He said: "I found the visit very useful because it gave us a detailed insight into college life.
"Cambridge is one of the top two places in the world to study engineering so I would love to study there.
"I really enjoyed looking at the projects the students were working on."
Fellow Year 9 student Charlotte added: "I enjoyed the tour and the talk about the courses which are on offer."
Next month a group of 14 students will visit the University of Leicester and in June all our Year 9 students will have the opportunity to visit the University of Northampton.
A gallery of photographs taken during the visit to Cambridge can be found clicking here.
(Our students are pictured above taking part in an engineering project during their visit to Cambridge)