CBA student is through to Spelling Bee National Final
05/07/2015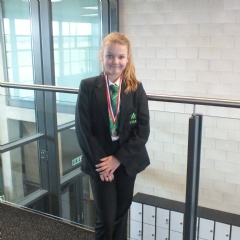 Four of our enthusiastic linguists have made it through to the National Final of the Foreign Language Spelling Bee.
Spanish Year 7 students Karolina Kontor, from Corby Business Academy, and Amelia Sulch, Olivia Miller and Aleksa Trkulja from Brooke Weston earned their places after taking the top four spots at the regional final of the Spanish section of the contest at Corby Business Academy last week.
Second place winner Karolina, who was only one word away from first place, said: "I had never taken part in a competition like this before and I was very excited and nervous.
"I'm so happy to have got through to the National Final and will work hard to get ready for it."
During the regional event nearly 100 Year 7 students from more than 40 schools were tested on their knowledge of French, Spanish or German.
The students were given one minute to spell out as many words in their chosen foreign language as they could.
The word was read out to them in English then the student had to spell the word in the foreign language, including any accents.
CBA Director of Modern Foreign Languages Karen Turney said: "This is the first time a student from Corby Business Academy has made it through to the National Final.
"It's particularly exciting because Karolina is from our first Key Stage 3 Spanish cohort.
"I would like to thank everyone at CBA and Brooke Weston who supported the event."
CBA Principal John Henrys added: "CBA has hosted the Routes Into Languages Spelling Bee regional final for the last four years. The skills that the students display never fails to amaze me and this year I am particularly proud of our student Karolina who has secured a second place in the regional final."
The prestigious competition is organized by Routes Into Languages East which is based at Anglia Ruskin University in Cambridgeshire.
The national final will be held in Cambridge on July 3rd.
(Pictured above is Year 7 student Karolina Kontor with her Spelling Bee medal)