Corby Technical School's second trip abroad was a huge success
24/06/2015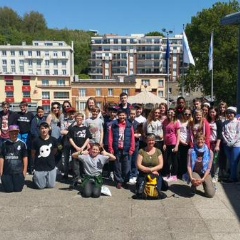 A group of 34 Year 8 students and four teachers visited France earlier this summer to learn about French culture and history.
During the four-day trip the group visited First World War battlefields, Le Chateau du Broutel, which hosts school activity and adventure holidays, and France's 'seaworld' experience - the Nausicaa Centre in Boulogne.
CTS Vice Principal Linda Arnold said: "The trip was absolutely brilliant.
"We focussed on learning about French culture and the history of the First World War. The students particularly enjoyed the walking tour of Rou because there were so many interesting stories connected with the town.
"They also found the trip to the First World War battlefields moving and were taken aback by how many names were on the Thiepval Memorial.
"The students behaved impeccably throughout the trip."
During the visit the students also explored several French towns and markets and tried French cuisine.