Santa Pod comes to CTS
24/06/2015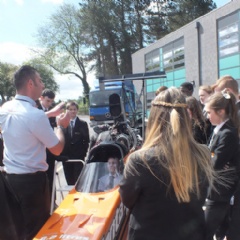 Students from Corby Technical School had the chance to take the wheel of a car which can travel at more than 300mph.
The enthusiastic young engineers and designers looked around the high performance dragster from Santa Pod raceway when it visited the school this month.
They examined its components and sat in its cockpit and had the opportunity to quiz Track Manager Darren Prentice and his assistant David Warren about the technology that goes into the car.
Mr Prentice said: "We hope the students took away a lot from our visit. The great thing about motorsport is the amount of science, technology and engineering which goes into the vehicles.
"Even people from the world of Formula One are amazed at the power we can create with the little we have. This is possible because the technology is so advanced.
"Motorsport is one of the largest employers in Northamptonshire so there are lots of careers out there."