Year 11 Charlotte from TCA prepares for World Champs
10/02/2015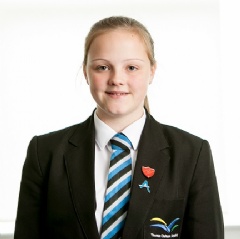 Thomas Clarkson Academy student prepares for Kickboxing World Champs
World Champion Kickboxer Charlotte Cameron is hoping to be crowned best in the world once more as she prepares for the title fight in Portugal.
It has been a spectacular past few months for the talented Thomas Clarkson Academy student who won the World Karate and Kickboxing Council (WKC) European title this year and is reigning WKC English Champion in the Cadet Girls light category.
At the end of September Charlotte competed at the British Chinese Kickboxing Association (BKCA) 2015 Tri - Series and won Gold in both of her categories. Charlotte also won the Free Style Karate & Kickboxing (FSK) Grand Championship in Manchester on the 13th September for continuous fighting and became Grand Champion 2015.

On top of all that success Charlotte took her GCSE Science one year early and received an A grade in August.
The Year 11 student, who trains with BCKA founder Alex Barrowman in Corby, will head off at the end of October to compete in the WKC World Championships.
She said: "I am feeling pretty confident as I have been training really hard over the past eight weeks.
"I would say that the reason I have done so well in the past is because I have the mind set to win. I know that there is always going to be someone out there who is better than me; so to win I have to work and train harder than them."
Charlotte says that she does not get nervous before any of her fights and the nerves only kick in when she steps on the mat.
She said: "Through experience you can generally assess your opponent as soon as you get onto the mat. If they are taller they tend to kick more, whereas I am shorter and so will use more punches."
The championship takes place from October 22nd.