World Titles for Kickboxing TCA Student
30/10/2015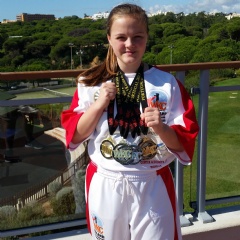 Thomas Clarkson Academy student Charlotte Cameron has once again set the kickboxing arena alight by picking up three world titles at the World Karate and Kickboxing Council's World Championships 2015.
Charlotte was crowned champion in the finals held this week in Portugal.
The talented Year 11 student now holds the titles of - Cadet Grls 13-15 +60kg ,Ladies 18 Years and over Category Points, Ladies 18 years and over Continuous Team event.
She also won up three silver medals in the Cadet Girls' competitions and the ladies team event.
Her father Stuart Cameron said: "We are so proud of Charlotte for what she has achieved in kickboxing not just this year, but since she started five years ago. She has just gone from strength to strength, especially after making the move in November 2013 to train at the headquarters of her club BCKA in Corby on a permanent basis.
"There Charlotte trains with very good instructors, coaches and multiple world champions and this has helped her improve as a person and a very good martial artist.
He added: "Her team coach Alex Barrowman says she is a promising young talent who is extremely focused, full of passion, drive and determined to succeed and a pleasure to have on the team.
"As well as her sport Charlotte always manages to fit in her school work and other activities with TCA. Charlotte always has here feet firmly on the ground and doesn't brag about her achievements."
At the championships there were teams from across the world, with Charlotte beating English team -mates in some finals and winning against a German competitor to claim the Cadet Girls 13-15 title.
So far this year Charlotte has gained her first degree black belt and fought her way to 17 finals winning 8 Golds (this includes 3 World, 1 European, 2 English and 2 Regional titles); 9 Silver medals and1 Bronze medal.
As the season comes to a close Charlotte will now continue with light training before preparing for the 2016 WKC World Qualifiers in Manchester in January.