International business experts work with CBA students
12/07/2015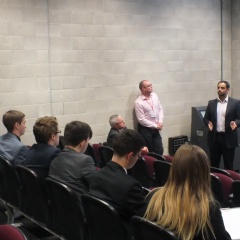 Experts in financial trading on a global scale took time away from their busy schedules to run a seminar with Corby Business Academy students.
Suneel Appan and Mark Connolly are members of Associated British Foods plc (ABF) Utilities Steering Group and make major decisions about the management of the international group's energy supplies.
The company is a food, ingredients and retail group that has sales of £12.8bn, 124,000 employees and operations in 48 countries and its Chief Executive, George Weston, is chairman of the Brooke Weston Trust.
Mr Appan and Mr Connolly discussed their work with a group of the Academy's A Level and GCSE Business Studies students.
They also set the students an exercise that required them to make decisions about when they should buy energy and how much energy they should purchase based on a number of factors, including market research, weather predictions and geopolitical influences.
Mr Appan, who is a Category Manager for Utilities, said: "We are keen to strengthen our links with schools within the Brooke Weston Trust and work together to create future ABF employees.
"At ABF there are jobs for every type of student coming out of Brooke Weston Trust schools.
"My advice to the students here would be to find out what they want to do and what they don't want to do. If you start a career and find it's not for you don't be afraid to change."
One of the students who took part in the seminar was Year 11 student Gareth De Beer.
He said: "I really enjoyed the seminar. I found it very interesting and they made their jobs sound like a lot of fun."
CBA Director of Business Studies Alex Allan said: "This has been an incredible experience for our students and they were totally engaged throughout the seminar.
"Most schools would not get the chance to have such a brilliant opportunity as this. It is testament to the fantastic benefits our school receives from being a part of the Brooke Weston Trust.
"We're so grateful to Suneel and Mark for spending time with us and we hope to further strengthen our links with Associated British Foods in the future."
ABF's best known names include Silver Spoon, Jordans and Dorset cereals, Ryvita, Kingsmill, Patak's, Twinings, Ovaltine and Primark.