Author Brian Conaghan visits CBA
21/01/2016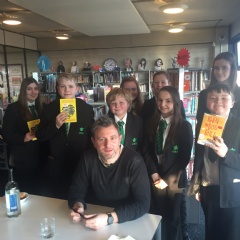 A critically acclaimed author captivated students when he visited Corby Business Academy.
Brian Conaghan is best known for his novel When Mr Dog Bites which was shortlisted for the 2015 CILIP Carnegie Medal.
During his visit he spoke to CBA's Year 10 and 11 students, Carnegie shadowers, and Book Club members and students from Brooke Weston.
The former English teacher was so popular with students that CBA sold out of all the books that his publisher had provided.
Mr Conaghan said: "This is a great school to visit and the students are lovely. I could sense that a lot of them are engaged with reading.
"If there is one thing I want to leave the students here with it is the importance of reading.
"Reading empowers you and gives you confidence. When you read you spend time with yourself and it helps you to feel comfortable with yourself and raises your self-esteem."
He also singled out the Academy's Librarian Amy McKay for special praise.
He said: "Amy has been fantastic throughout my visit.
"If all schools had a Librarian as motivated and driven as she is they would be better places."
Amy said: "It was a fantastic occasion and we are so grateful that Brian came to see us.
"He talked about the fact he was a reluctant reader at school and was expelled at 16 with a reading age of 12.
"He talked about the difficulties of being a teenager and why he became interested in reading and writing and improving himself.
"Brian really held the students' attention and they asked him some very intelligent questions – they were a credit to the Academy.
"It's great that our English teachers encourage our students to read exciting, contemporary books, such as When Mr Dog Bites, because the students really connect to them which is a very big thing for some students."
CBA Assistant Director of English Rebecca Horridge sat in on one of Mr Conaghan's talks with her Year 10 and 11 students.
She said: "When Mr Dog Bites is a fantastic book and my students have really enjoyed reading it with me. Reading it has been a treat for us all.
"It was great to see Brian. He was brilliant and funny and all the students loved his talk.
"Some of them aren't that enthusiastic about reading so it was very special to see how much they engaged with him."
(Author Brian Conaghan is pictured with a group of Corby Business Academy students)