Gold Award for Concert Band
20/04/2016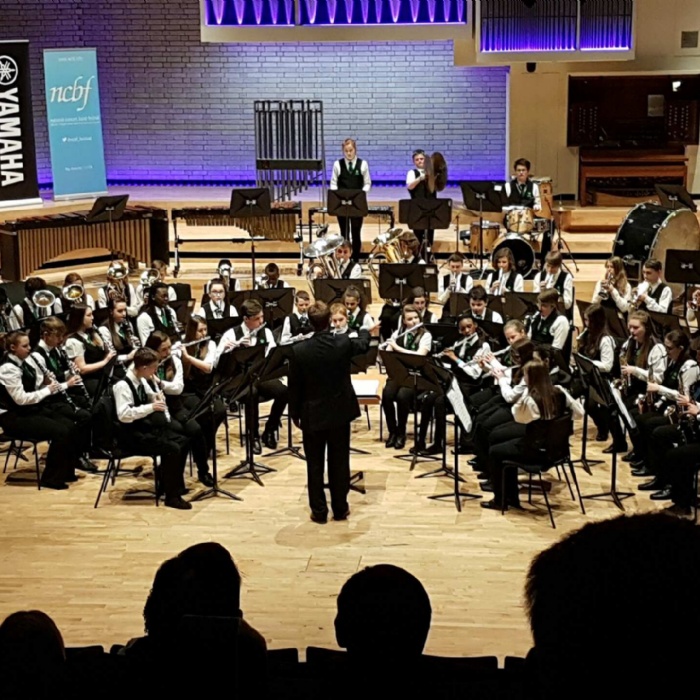 Corby Business Academy's Senior Concert Band has won a Gold Award at the national final of the UK's largest wind band and big band festival.
Its fantastic musicians impressed judges with their performances of Star Wars, Buster Strikes Back, Ballad for Benny and Encanto during the National Concert Band Festival final at the Concert Hall of The Royal Northern College of Music in Manchester.
During the festival several of the Academy's musicians also had the chance to play with the Grenadier and Coldstream Guards and all of the students listened to a gala concert by the prestigious band.
CBA Director of Music Clive Wears said: "Our students worked so hard to get ready for this festival and they performed brilliantly.
"It really does not get any better than being awarded Gold at the national final of this competition.
"Our students were magnificent and I would like to congratulate them all."
The judges praised cornet player Louie Anderson for playing his solo performance in Buster Strikes Back from memory and 'with such style and technical mastery'.
They also thought our performance of Encanto was 'well planned and executed'.
Flute player Ewan McPhie performed with the Grenadier and Coldstream Guards alongside fellow CBA students Bobbi Devlin, Louie Anderson, Andreas Milan and Beth McQuillan.
Ewan said: "To play with the best band in the UK was brilliant.
"It was very hard to start with but you soon appreciated the standard they perform at and we got better as the performance continued.
"Performing with them has given me a lot more confidence and it was particularly exciting for me because I hope to join the Army.
"The competition itself was nerve-wracking and it was fantastic to win Gold."
Music Teacher Lucy Wass added: "It was really inspiring for the students to see the Grenadier and Coldstream Guards and to realise what they could do with music later in life."
During the trip to Manchester the students also visited Old Trafford and Mr Wears competed in the Manchester Marathon where he recorded a personal best time of three hours and 20 minutes.