Speed safety lessons for Gretton students
26/05/2016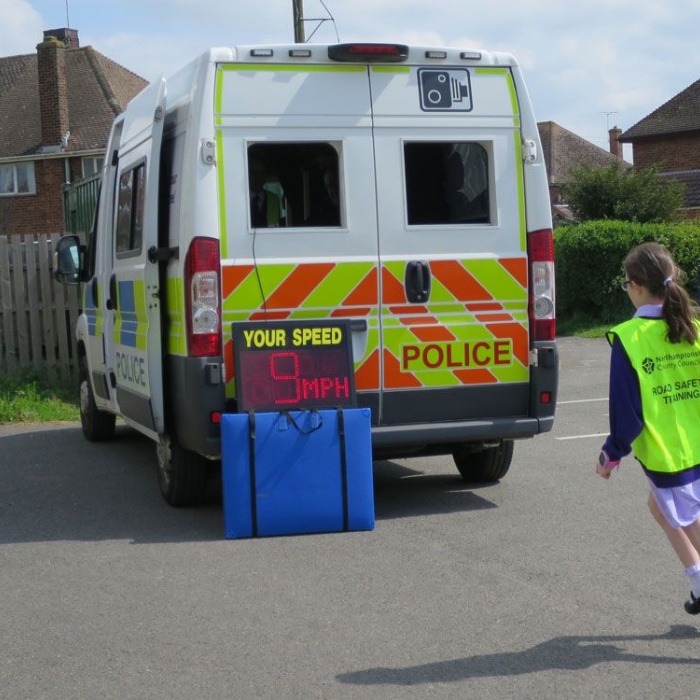 Students from Gretton Primary Academy monitored traffic with speed guns during a recent road safety workshop and they also had the chance to look inside a surveillance van and try out the camera.
The Police Rural Safer Communities and Corby Borough Council Neighbourhood Management team briefed the students before giving them high-vis jackets and taking them to locations around the village.
Archie O'Connor from Year 6 said: "There were different places you could go with the police on the road to point the gun. We weren't enforcing, we just wanted cars to slow down. There's a little red dot and you aimed it at the front of the car as it came towards you. The gun beeped and told you their speed. The car I checked was travelling at 19mph.
"We also went to the van and moved the camera using a joystick. It was really expensive equipment. We were able to run at the camera and a signal showed how fast you were moving. I got up to 13mph! The van was in the car parking space near our school so there were only a few cars there but there were quite a few going past when I used the speed gun. Everyone took turns on the equipment and we got stickers. The best bit was holding the speed gun and aiming it at different cars. It was fun."