CTS students through to national engineering competition final
15/06/2016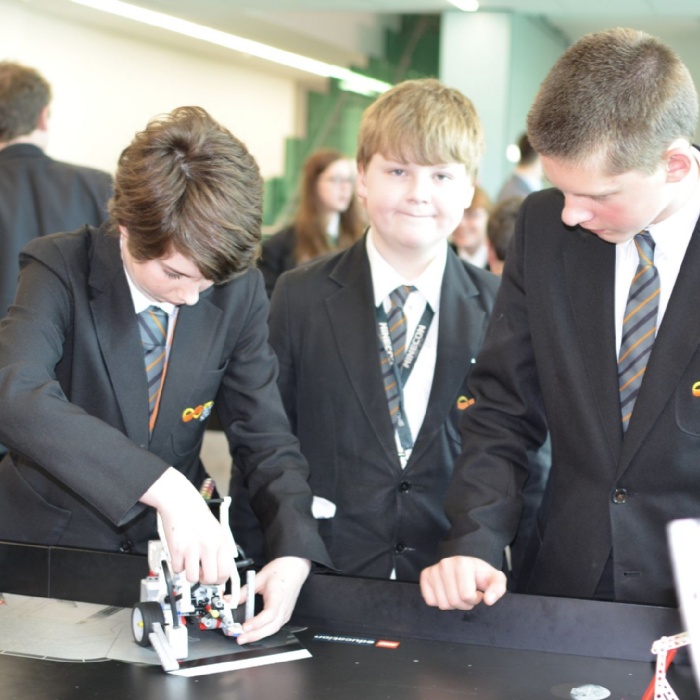 Bright young engineers from one of our Trust schools have made it through to the national final of a major competition.
A hundred schools entered Tomorrow's Engineers EEP Robotics Challenge which challenged students to build, program and control Lego robots to complete a series of space-inspired challenges devised by NASA and Lego Education, including deploying solar panels, launching a rocket and collecting a mission commander.
Following a series of tough regional heats a team from Corby Technical School made it through to the last 20 schools which will compete at the national final at the Ricoh Arena in Coventry on Thursday 23rd June.
CTS Computer Science Teacher Arron Gourlay said: "During the regional heat the students' robot had to complete a series of challenges and the students had to deliver a presentation on how humans could survive in space.
"They were questioned by robotics specialists about building and programming their robot and they demonstrated a brilliant knowledge of their robot and great technical understanding.
"The students have given up a lot of their own time after school to work on this project and we are incredibly proud of them for getting through to the national final where they will face new challenges and compete against the top schools in the country."
During the regional heat at the Manufacturing Training Centre in Coventry the students gained feedback on their work from professional engineers and scientists.
The judges also commended Year 8 student Bailey Bhamjee for his understanding of hydroponic plants and how they can feed humans in space.
Mr Gourlay added: "The regional heat gave the students a fantastic opportunity to meet with industry specialists at the Manufacturing Training Centre which was very inspiring.
"The competition has really opened up the field of robotics to many of our students which is in keeping with our school's technical ethos.
"Hopefully this competition will inspire them to investigate a variety of careers in engineering and other technical fields."
The students were supplied with Lego Mindstorms Education EV3 sets to create their robots.