She was guest of honour at this year's Achievement Awards at Corby Business Academy where the audience saw a short film showing her journey so far. She said: 'My passion was my horses and eventing. About eight months before my accident I was competing at Burghley horse trials, which was a childhood ambition. On 6 May 2007 I was on a training ride when the horse clipped his shoulder on a tree and flung me into it. As I hit the ground I knew I was paralysed. It was a split second that turned my life upside down and totally shattered all my dreams and hopes for the future. I couldn't feel the ground I was lying on. I knew straight away that this moment had changed my life.'
She spent time in intensive care and spinal injuries units, first in the UK and later at Project Walk in America, where they exercise the paralysed muscles as well as the working ones.
Claire said: 'I felt two thirds dead and sometimes I wished I'd hit the tree a little bit harder. I thought how can I ever be paralysed and happy? It just seemed impossible. A year after my accident I met my husband and the good days started to outweigh the bad.
'I needed to find a new sport and eventing is a hard one to replace. However when I learnt to ski in my monoski, although I found it seriously difficult balancing when you haven't got any core strength I felt more like my old self and had something to focus on.'
She said: 'Although my accident felt very tragic and my life was over in some ways, I also felt genuinely lucky I had the use of my arms so I knew from the start I wanted to raise money to help cure spinal injuries. In hospital the neck injured people couldn't even wipe their own tears away. There are a lot of young people affected and nothing would give me more pleasure than to get their independence back so that is what I am going to keep fundraising for.'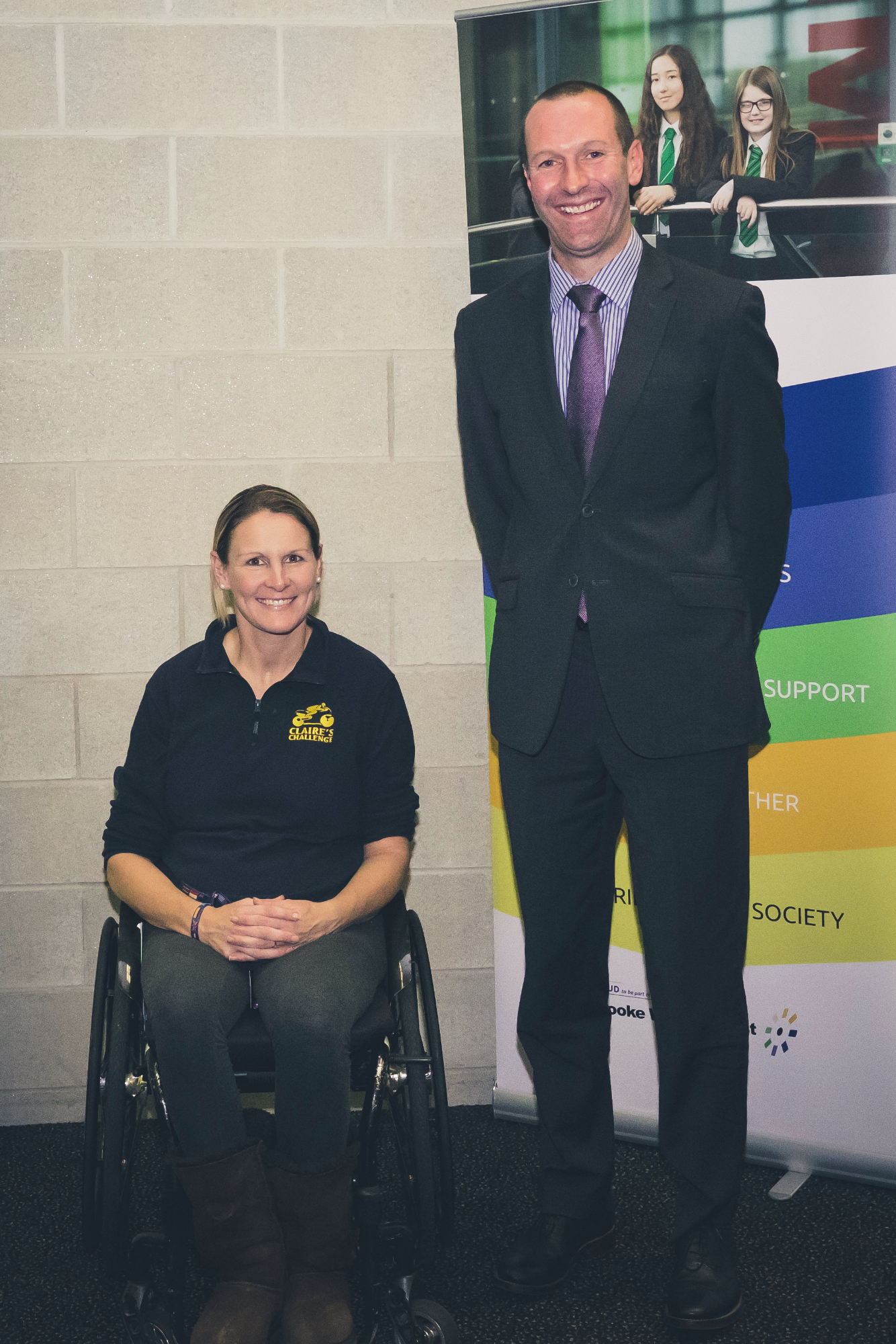 She supports the Nicholls Spinal Injury Foundation and, after seeing a paralysed man being able to walk because of a specially designed suit, Claire signed up for the London Marathon.
'In January 2012 I was the first person in the UK to have a suit. That only gave me 12 weeks to learn to walk in it. I was going on different TV programmes to get the media involved. Although I said I was going to walk the London Marathon, I couldn't even walk across the room at the time!
'I took that first step over the start line on 22 April 2012 and the crowds went mad. I had 17 days walking and the finish line was a very welcome sight. The support I got throughout and the donations kept me going and it is certainly a memory I'll treasure forever.'
Since then Claire lit the Paralympic Cauldron watched by Seb Coe, Boris Johnson and Prime Minister David Cameron. She said: 'It was an absolute honour to be involved.'
She went on to do a 400-mile hand cycle, completing the equivalent of a marathon a day over three weeks, but her most intense challenge to date has been completing the Great North Run earlier this summer:
'It was so gruelling and challenging that I really didn't know if I would get there at times. I had a slogan on my t-shirt that said "The harder the struggle the more glorious the triumph" and it was the toughest thing I had done, without a doubt, but gave me huge satisfaction.'
After the birth of her second child next year Claire is looking forward to resuming her sporting challenges as most recently she has been racing motorbikes around Mallory Park!
She told the audience: 'When things seem tough don't give up. Without the help of friends, family and even strangers I couldn't have done what I have done, but I also know I have made my own luck. If I carried on thinking of all the things I couldn't do and stopped thinking of all the things I could do, then I wouldn't have had the best days of my life, all after my accident. If I had to name the best five times of my life they would all come after my accident; meeting my husband, having my daughter, the challenges I have done and some of the schools I have been to, everything really that I have done since then. When things feel tough don't give in, keep going and persevere.'