CTS receives award for mental health promotion
16/02/2017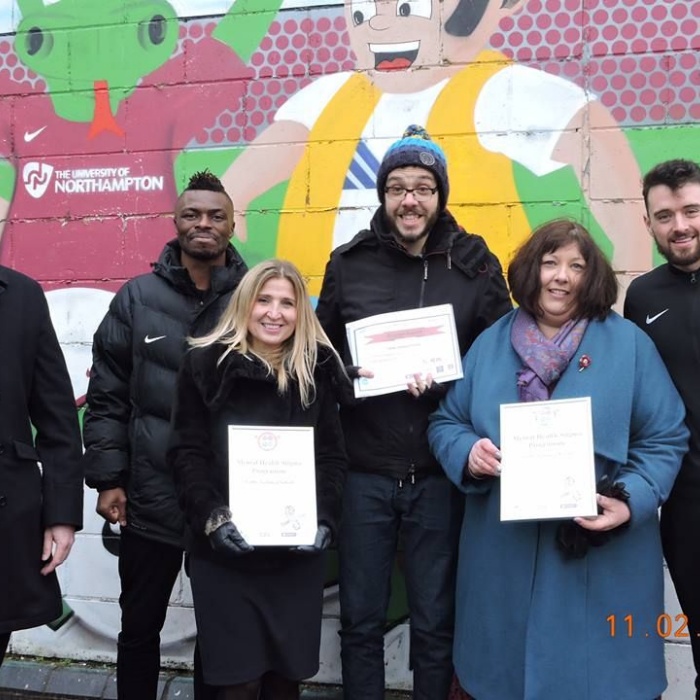 CTS is the first secondary school in Northamptonshire to receive the Bronze TaMHS (Targeted Mental Health in Schools) award.
Staff from the school were presented with three awards at Northampton Town football club for their good practice in promoting and delivering interventions for children's mental health. They received the Bronze and Silver Mental Health Stigma Programme (MHSP) awards and became the first school in the county to receive the Bronze TaMHS accreditation.
Northants County Councillor Matt Golby presented the awards before Northampton Town's home match against Southend Utd.
Emma Toye, CTS's Attendance and Welfare Officer said 'We are delighted to receive these awards and it is very fulfilling to be the first secondary school in the county to achieve the TaMHS accreditation. There are lots of things in the news about children's mental health at the moment and it is important that children know how they can seek help. We want to be knowledgeable on the subject and able to support and protect our students.'
The school applied for the accreditation last year it has run many events to promote mental health within the curriculum.
The programme organisers were impressed with the school's drive to help children and young people maintain their own emotional safety and the school was awarded the MHSP Bronze and Silver Schools awards for their commitment to raising awareness of mental health issues and ensuring that both students and staff know how to access help and support.