KSA put on amazing Oliver! performance
03/03/2017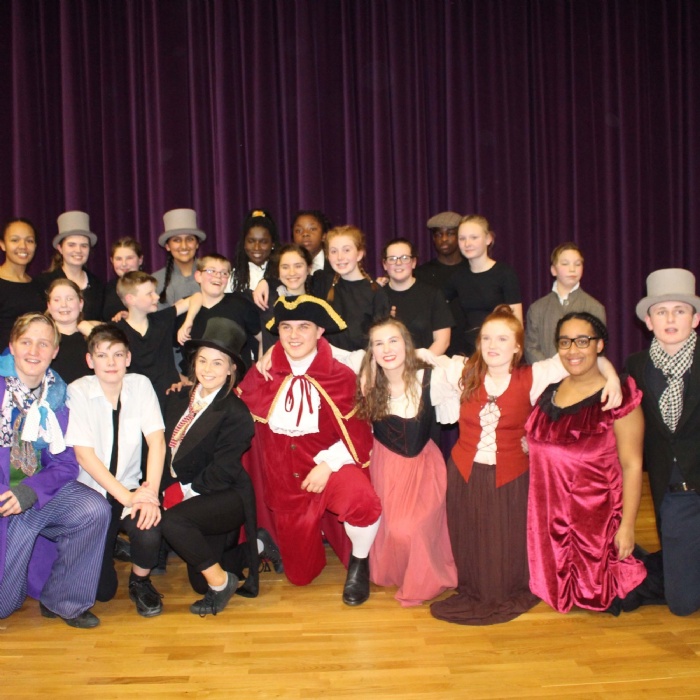 Congratulations to the students and staff of Kettering Science Academy who worked so hard to put on a barnstorming performance of Oliver! their first musical production in years.
The exhilarating show, featuring solos, group choral pieces and dance, was accompanied by the school orchestra. Based on the book by Charles Dickens, the musical adaptation by Lionel Bart features time-honoured favourites, including 'Food, Glorious Food' and 'Consider Yourself', allowing the whole cast to show off their considerable talents.
Oliver! was a sell-out success and hundreds of parents came along to support the young stars, as well as Brooke Weston Trust's CEO, Dr Andrew Campbell, and the school's senior leadership team.
Head of Performing Arts Julia Mallard, who directed the show, said: 'The students worked incredibly hard over the past months. They had to audition, then learn their lines, dance moves and vocals from scratch, with some of them having no previous performing arts experience.
'I am very impressed with what the students have managed to achieve and it was lovely to have an opportunity like this to bring the community together. It would not have been possible without the support of the staff who have given up lots of their time and have really pushed for this to happen. It has been a pleasure working with such a wonderful team. I have received lovely emails from parents praising the performance. We are now going to take a short break before we start to look into what we are going to perform next!'