CBA's Happy Hands wins Best Trade Stand
05/08/2017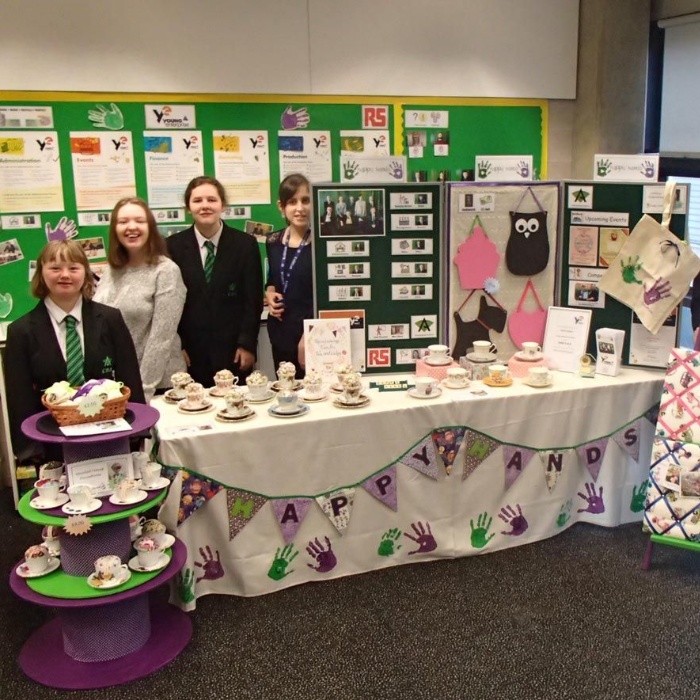 Congratulations to Corby Business Academy's Young Enterprise company, Happy Hands, that has won first place in a national competition for having the best trade stand.
The students displayed a range of their wares and they were judged on a number of criteria for the National Team Programme Young Enterprise Best Trade Stand Competition. This was open to all schools enrolled in the Team Programme. This year there are 114 schools taking part and 25 schools entered this phase of the competition
Congratulations to all the Unit students: Ronan Kelly, Daniel Lee, Jessica Brown, James Stuart, Sean Mathieson, Natasha Cadogan, Chelsea Philp and Chloe Critchley. Two of them will represent Happy Hands and collect the award at the Young Enterprise UK Final at the Emirates Stadium, in July.
Miss Nikki Clark, Young Enterprise Link Teacher said 'Last year we came second in the Trade Stand Competition and we really wanted to improve on that. The students helped to develop the stand by incorporating the colours of the company's logo and selecting key products to display. We are very happy to achieve first place.'
The judges said 'We are really impressed by the variety, creativity and presentation of the products. The stall is really enticing to passers-by!'
Miss Clark said 'We have kept the company name Happy Hands since we first took part in the programme so that we keep our brand recognition. Each year we develop the logo and our range of products. This year we have been selling: Happy Hands tote bags, chalkboards, teacup candles, bird feeders and pincushions as well as seasonal items such as Christmas baubles all designed by the students.'
Happy Hands also came third in the National Team Programme Best Advertisement competition and they are currently working on a presentation about Happy Hands for the final competition of the year as well as nominating Jessica Brown for the Sir John Moores' Award for Special Achievement.