CEO on tour – Corby Technical School
26/06/2017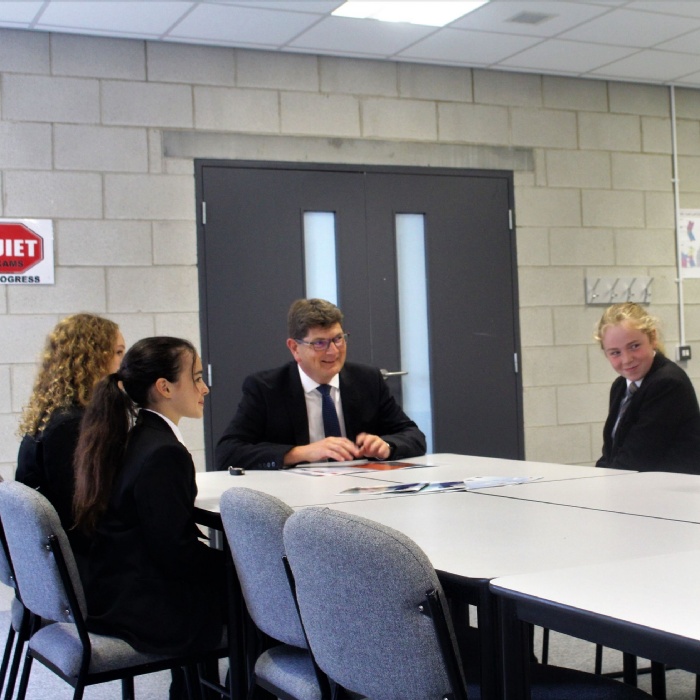 Brooke Weston Trust's CEO, Dr Andrew Campbell, visited Corby Technical School as part of his ongoing tour of all the BWT schools. He spoke to students and staff about all aspects of the school and visited a range of classrooms.
Students Abigail Harding, Hana Harris, Caitlin Roughton, Abbie Alfano, Tamiska Riddell and Principal Angela Reynolds welcomed Dr Campbell. They discussed the benefits of being a small school and its plans to grow, as well as their technical GCSE options. The students also spoke about other opportunities, such as residential trips and the CREST award, which is aimed at developing Year 8 students' analytical and problem solving skills.
Dr Campbell then met with facilities staff to discuss the expansion of the school. Jodie Kidner, the school's first ever librarian, who has recently been appointed, discussed the library and after-school clubs she has started.
He then met Emma Toye, the School's Attendance and Welfare Officer, who has led the recent work to improve mental health. She held an awareness week and helped the school to become the first secondary in the county to receive the Bronze TaMHS (Targeted Mental Health in Schools) award. They are now hoping achieve gold next year.
Dr Campbell then visited classrooms where he saw the diverse range of projects the Art and Design department have been working on. The Year 8 students showed him their wooden maze puzzles and he looked at Year 11's final year projects. In Year 10 art, he saw students'still life drawings, combining nature and technology.
In Year 10 German, students showed Dr Campbell how they use computer programmes to learn vocabulary and he saw the language albums they had created as part of a recent cross-curricular project, in which they created visual albums that people could use to find out more about Germany, Switzerland or Austria.
He then spent time in computer science, where he learnt about problem solving and programming. In science, students looked at weathering of rocks and carried out practical experiments. Finally, Dr Campbell met with middle leaders to discuss the exciting plans for the new Sixth Form.
Afterwards he said: 'This was a really instructive tour and gave a valuable insight into the newest of our secondary schools with its ambitious expansion plans already well underway to offer outstanding sixth form provision from September. Thanks to everyone that made the tour so informative and enjoyable.'
A gallery of photos from the day is available here.