Best-selling author visits BWA
20/07/2017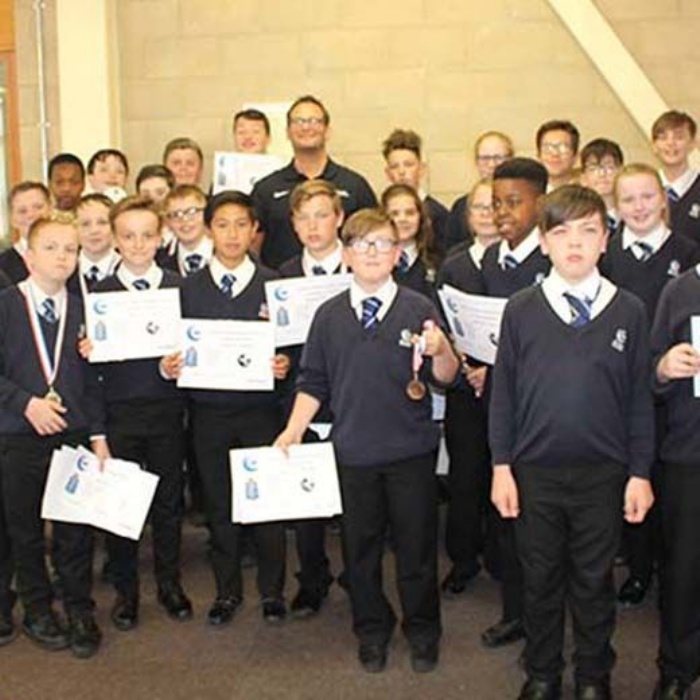 Best selling novelist Dan Freedman spoke to Brooke Weston students about his career and hosted a creative workshop for a group of Year 7s.
Dan is the author of the Jamie Johnson series of books which have sold over half a million copies and have also been adapted into a TV drama for the BBC. He started off his career as a journalist and has worked with the England football team as well as having interviewed players such as Ronaldo and Messi.
At the end of his talk, Dan, along with the BWT CEO, Dr Campbell, presented medals and trophies to the winners of the Year 7 Premier League Reading Challenge which began back in November 2016 with 11 teams taking part.
Librarian Ms Wendy McCabe said 'Dan's visit has been inspirational for the students. He is such an interesting character and has inspired the students with his stories. Although his books are primarily about football they are also stories about family, friends and chasing your dreams, whatever they may be'
Dan said 'I was really bowled over by the attention that everyone paid in the talk as there were a lot of people there and they were really engaged and their questions were excellent. In the workshop the quality of the writing and the fact that they all enjoyed doing their own Jamie Johnson story was fantastic, a lot of hard work had clearly gone in to setting it up and hopefully it paid off. I thought it was very memorable and hopefully something that the students can go away with over the summer and take something constructive from it.'