New BW fitness suite well underway
21/01/2014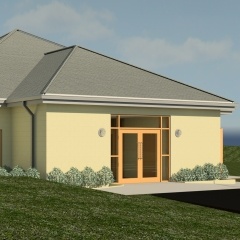 Work is now well underway on the health and fitness suite that is being built in the grounds of Brooke Weston.
The building, located between the astro-turf and tennis courts, was designed by Kettering-based GSSArchitecture. In addition to a welcoming reception and changing facilities it will house a range of sports machines and free weights.
Principal Trish Stringer said: 'This will be a very popular addition to our extensive sports facilities and it will be open to students, staff and members of the public, who will be able to purchase memberships. We envisage that the fitness suite will be very popular as it will combine state-of-the-art equipment in a convenient location. It will complement the range of sports pitches and courts that are already regularly booked by members of the public.'
It is being built by SAC Construction and the scheme includes additional parking spaces for gym customers and staff.
GSSArchitecture Partner Ian Bray said: 'This is an exciting phase of the Academy's development and we are pleased to be working with Brooke Weston Academy on their most recent scheme. The new purpose built fitness suite will provide students and the wider community with a vibrant, modern, accessible centre, which will enhance current teaching and learning spaces.'
GSSArchitecture have worked on other projects at Brooke Weston including the library, sports hall, ICT suite, restaurant and science block.
Artist's impression of how the new fitness suite will look: