Corby Business Academy win award
20/10/2014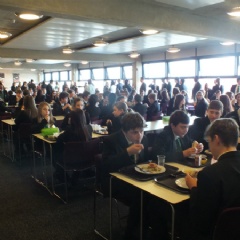 Corby Business Academy restaurant team has won a prestigious Food and Drink Award.
The team won the Healthy Eating Workplace of the Year – Health & Education category award in the Carlsberg UK Northamptonshire Food and Drink Awards 2014/15.
CBA Restaurant Manager Chris Lapsley said: "To receive this award is a fantastic achievement.
"It represents all the hard work that our staff put in to producing the highest quality food.
"I'm very proud of all our team."
Principal John Henrys added: "I am very pleased for all of the team involved in achieving this award.
"It has taken a lot of hard work and dedication to achieve the high standards in our restaurant and it is so pleasing that these standards of healthy food have been recognised."
Our Academy beat three other worthy finalists – Kettering General Hospital NHS Foundation Trust, St Andrew's in Northampton and the University of Northampton's Park Campus – to win the award.
The team received their award during a special Awards Dinner held at the Royal & Derngate in Northampton.
The Awards are widely recognised as identifying the heroes of Northamptonshire's food and drinks industry.