CTS Principal invited to meet Prime Minister
11/07/2014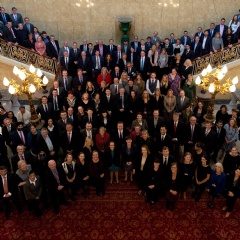 Corby Technical School's Principal was one of a small number of headteachers from the best performing schools who were asked to meet the Prime Minister at a special reception.
Principal Angela Reynolds was asked to represent our school at a reception celebrating the success of free schools across the country.
More than 200 schools were represented at the event and Mrs Reynolds was one of a small number of headteachers from Outstanding schools who were given the chance to talk to David Cameron and the Secretary of State for Education Nicky Morgan.
Mrs Reynolds said: "It was a privilege to represent our school at the reception and to be given the opportunity to meet the Prime Minister.
"In the two years since we opened we have achieved so much, we have moved into a new building with cutting edge facilities and have been named Outstanding by Ofsted.
"It was wonderful to share these achievements with the Prime Minister and the Education Minister."
The event was organised by education charity New Schools Network to highlight free schools independence from council control and their abilities to innovate and respond directly to the needs of parents and communities.
Mr Cameron said: "Free schools bring innovation, create choice and competition, and raise standards and I whole-heartedly believe that they are driving an extraordinary and beneficial change in Britain.
"We want to go on investing and helping with the free school success, to create the best education system in Western Europe that enables young people to get on and make the most of their lives."
The event was held at Lancaster House in London last month.
(Prime Minister David Cameron is pictured with the headteachers, including our Principal Angela Reynolds)