Certificate Awarded to KSA students for Challenge Efforts
11/07/2014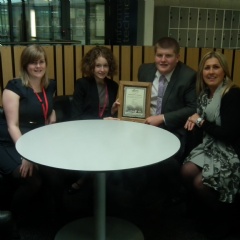 Kettering Science Academy has been rewarded with a certificate from Camps International in recognition of the efforts of students and staff who took part in a challenge trip to Tanzania in the summer.
The certificate was presented to the Academy on Tuesday, 21st October by Simon Englefield, African Director from Camps International.
The certificate has been awarded to the Academy students and staff for: 'outstanding contribution to community development and wildlife conservation in Tanzania and for undertaking the team challenge of a PADI [Professional Association of Divers Instructors] open water course.'
A group of 16 KSA Year 11, now Sixth Form, students went on the six weeks trip to Tanzania at the end of July and volunteered on various community projects including working on a building project for a family, helping out at a primary school and making paper out of elephant excrement.
They also took part in an open water course as part of their trip and all the students that took part in the training also received an individual PADI qualification.
To find out more about the students' summer challenge click on the link to KSA's website http://www.ketteringscienceacademy.org/news/?pid=6&nid=1&storyid=711