Thomas Clarkson Student World Champion Kickboxer
11/10/2014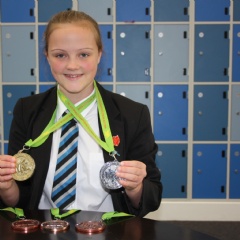 Thomas Clarkson Academy student Charlotte Cameron is now a World Champion kickboxer after winning gold at the World Kickboxing Championships in Portugal.
Charlotte, 14, came home with 5 medals this year and a World Champion title in the cadet girls 13-15 years category -60kg.
Charlotte said: "It feels unbelievable. It is everything I have worked for in eight weeks of training. Taking part in the championships was overwhelming but when you step on that mat the adrenaline takes over and you forget about everyone around you."
TCA Principal Clare Claxton said: "Charlotte is a determined young woman and everyone at TCA is absolutely delighted to hear of this phenomenal success after all the hours of training. We hope this will be the start of many more titles."
Charlotte's dad, Stuart Cameron, said: "Charlotte fought really well in her individual events and on the day all her fights were really close. They could have gone either way and to be told that she was robbed by the coach of her competitor says something about how Charlotte did on the day.
"Charlotte is well respected across the fight scene for her age and ability to compete at all levels and is now looking forward to Ireland in March."