Mock Results Presentation
27/01/2015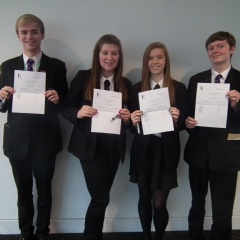 Year 11 Students at Kettering Science Academy were presented with their mock GCSE examination results on Friday, 16th January in preparation for their real results day in the summer.
Students received their results in CAPS time and it allowed for reflection for the individuals on their grades so far, ahead of sitting their actual exams from May.
The top 20 high achievers in their mocks were also invited to be presented with their results by KSA Principal, Mr Paul Davies.
Mr Davies congratulated all the students on their high mock grades and for all their hard work. He also rewarded them further by presenting each one with his Principal's Pen award.
The top 20 Year 11 Students were: Hannah Winstone, Jordan Ayre, David Bilsby, Bradley Elliott, Deborah Entiriwaa, Callum Gosling, Lauson Kenyon, Charlotte Marlow, Joe Smallman, Bree Streather, Zachary Affuso, Jacob Amos, Connor Carslake, Georgina Cutting, Rachel Harding, Casie Hare, Ramdeep Hayer, Joseph Hill, Louise Lee and Owen Mehew.
Charlotte Marlow received mock grades of 2 A*s in biology and psychology, 3As in statistics, chemistry and maths, a B in English and a C in history. She said: "I am very pleased with my grades, especially my psychology and biology A*s, they were the surprises for me. I wasn't nervous about getting the results, until five minutes before I was about to receive them and then I couldn't wait to see them.I wasn't disappointment."
Joe Smallman received 3A*s in maths, English and history, 2As in psychology and biology and 2Bs in chemistry and statistics. He said: "I am really pleased with my mock results, but now the hard work begins towards getting the grades for the real exams."
Hannah Winstone received 2 A*s in Maths and Psychology, 1A for PE, 3Bs in statistics, English, biology and chemistry and a C for History.
Jordan Ayre was awarded 1 A* for biology, 3As for history, psychology and maths, 1B in English and 2Cs for statistics and chemistry.
All four students agreed they thought it was a good idea to be awarded with the Principal's Pen for getting the top marks in their mocks and for making the presentation of the results more of an occasion for the students.