BWA students receive books to instil love of reading
09/05/2019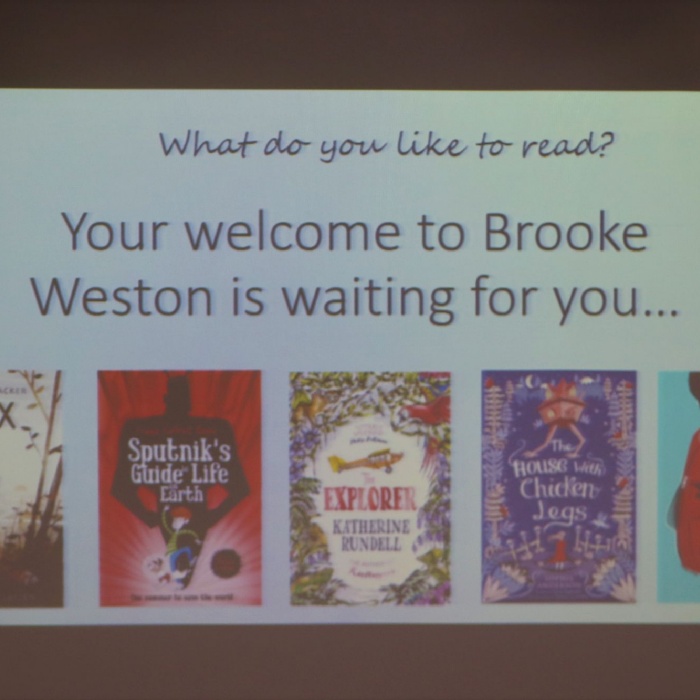 All 178 of the new Year 7 cohort at Brooke Weston Academy received a book of their choice on their very first day at secondary school.
The gift of a book was designed to encourage a life-long love of reading and introduce students to new fiction and authors. They each chose one of five titles selected from the Carnegie long-list, which showcases the best in young adult fiction.
Literacy co-ordinator Lauren Fitzjohn told students: 'I want to hear you talking about the books, sharing them and recommending them to your friends. This should be the start of a really exciting journey that hopefully will lead to you having a real love of books. Twenty minutes of reading every day does wonders for your literacy and comprehension, but it is also incredibly good for your mental wellbeing as well.'
Afterwards she said: 'The texts were selected for their appropriateness and to support the students' reading levels, aimed at ages 9 to 12. There were a range of genres around topics like immigration, isolation, friendship, change and emotional wellbeing. The idea was to arm the students with a book on their first day in senior school. It is a really powerful metaphor and exposes them to a brand new set of texts.
'The books only make the Carnegie long-list if they are inspirational. Drop Everything and Read is an initiative where each Year 7 and 8 student will read at different times for 20 minutes a day. Over an academic year it means that students improve their word exposure by something like 1,800,000 words. It is 20 minutes a day but academically it makes a huge difference.'