Former CCF cadet pursues military career
19/09/2019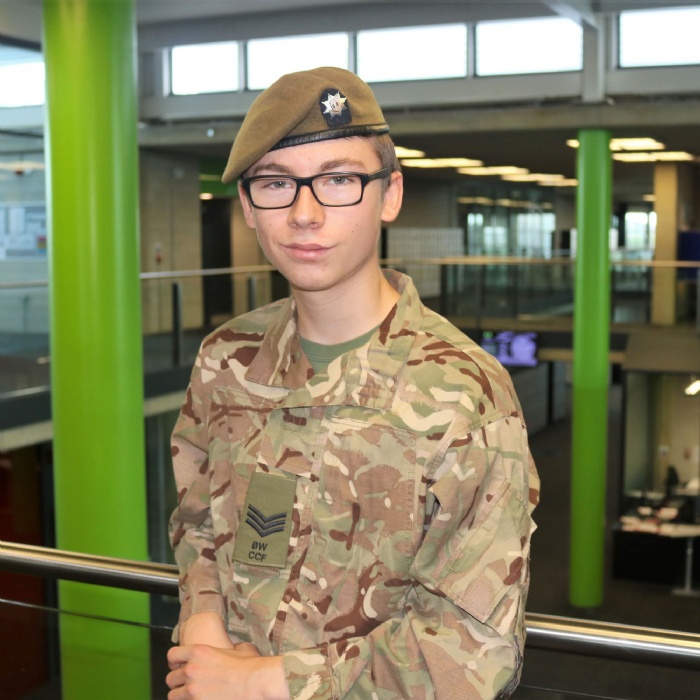 A member of our Combined Cadet Force is going to train at Harrogate Defence College and hopes to become a helicopter engineer and maybe even a pilot.
Sgt Shaye Stapleton, formerly of Corby Business Academy, is studying mechanical engineering for six months at college before starting his Army career next year. He will undertake 23 weeks of basic training, which will include section attacks, weapon handling skills and fieldcraft. Then he will be based at MOD Lyneham in Wiltshire as an aircraft technician, learning how to maintain and repair the Army's fleet of Apache helicopters.
He has been an active member of our CCF for years and will be expanding on many of the skills he learned there. He said: 'What they are teaching us here is the same as the Army so it has given me a head start. You get to know the structure of the Army, how it works and what is expected of you. Teamwork is a big thing and you learn a lot of that in the CCF. It also teaches life skills like resilience, leadership and how to work under pressure. I applied via the Army careers website, then had a formal interview at the Army Careers Centre and selected the top three jobs I wanted then had a health and fitness assessment.
'I am most looking forward to fieldwork at Harrogate as you can use grenades, smoke grenades and proper rifles. We also stay in the field for a week and ride in helicopters so you see a lot more of the Army's weaponry and ethos.
'I love helicopters and have been fascinated by them since I was little. It's a great thing to think that I can go into the Army and when I come out I can do civilian engineering as well, so it this step is not just for a few years, it is a future life decision.'
Contingent Commander Matt Isherwood said: 'Sgt Stapleton has developed massively since joining the CCF, both as a person and a cadet. He has found his own direction and being in the cadets accelerated his maturity and he is a confident, trustworthy and reliable young man. He is helping out with our cadet force until he goes to Harrogate and we wish him all the very best in his military career.'