Former student lectures on the law
26/09/2019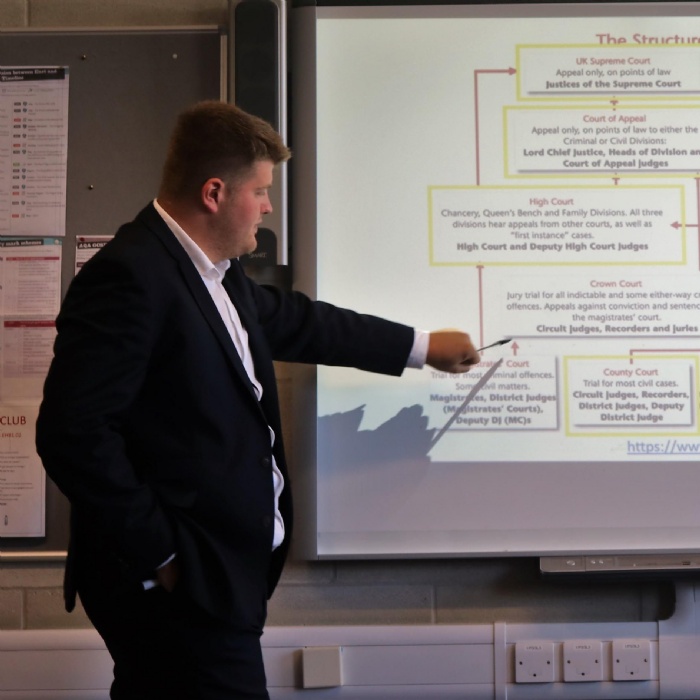 Former Kettering Science Academy student Daniel Warren returned to the school to deliver a lecture to a cohort of Year 12s who are studying a newly offered qualification in A Level law.
Daniel is in his final degree year and has already landed a coveted place on a training scheme with a leading global business law firm.
Daniel attends Bristol University and also studied for a year at Helsinki University. He wants to specialise in insolvency law and is writing his dissertation on that theme. He spoke to our students about the differences between civil and criminal law, the hierarchy of the court system and the different routes for aspiring lawyers.
Daniel is one of just 70 people selected from thousands of applicants to be offered the post-degree position at the firm, which is based in London but has 90 offices in 40 countries. He told students how they have to prepare well for interview and take every opportunity they are offered.
He told them: 'I studied psychology, geography, chemistry and maths to A Level as I was trying to keep every option open. The good thing with law is that it is quite welcoming to various degree types. It comes down to personality and critical thinking. KSA is really lucky to have the law A Level as it is very uncommon for that to be offered.
'In the Sixth Form especially KSA has always motivated me to do things a bit outside my comfort zone. I did the Cambridge Sixth Form Law conference and worked with the Sutton Trust to cement the idea that I wanted to do law and make sure it was for me. KSA pushed me to do those things and make sure that it was right for me. There was that motivation from the start that you could go to any university you wanted to and there was support to make it happen.
'I have fond memories of KSA and try and relay what I have learned over my time and make some use of it. If the students have learned one thing today then that has made this visit worthwhile. My advice to these students would be to be curious and don't set yourself on a certain path. Be curious and do things you wouldn't necessarily do. Also getting a job is so important for 16 to 18 years olds as you learn so many life skills that are crucial in things like interviews.'
Teacher Kirsty Farrar, who also trained as a solicitor, said: 'I know from experience that Law is so competitive so for Dan to be offered a training place is amazing and shows what can be achieved if you put your mind to it. Dan has also donated law books to our library plus his own university notes so that will be a really good resource for our students embarking on this course.
'I want our students to realise that if Dan can do this there is no reason why they cannot go for it as well. There are great opportunities out there and all you need to do is to be well prepared and grab them. It is a case of being pro-active and having a can-do attitude. Dan is proof of what can be achieved with hard work and a positive mindset.'