Official opening of Peckover's Pre-School
10/04/2019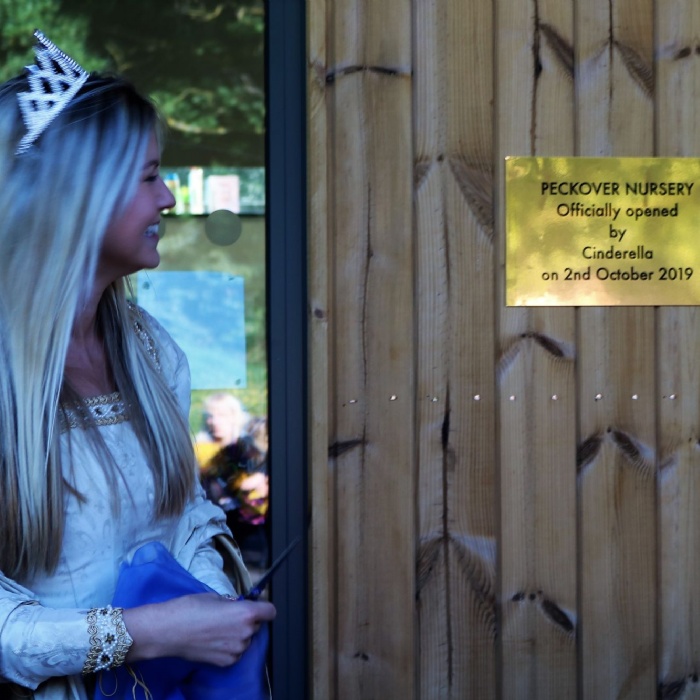 Peckover's new Pre-school got off to a fairytale start as it was officially opened by a very unexpected guest - Cinderella, who made a surprise appearance in a coach pulled by donkeys!
The youngest students, who only started at the preschool a couple of weeks ago, had a memorable day as proceedings got off to a lively start with the arrival of an Ugly Sister, Wicked Stepmother and Fairy Godmother before Cinderella made her appearance, greeting the children before cutting the ribbon to declare the pre-school open. The children then got the chance to ride in Cinderella's carriage.
Other guests at the ceremony included the Mayor of Wisbech, Cllr Michael Hill, staff and governors from the school and representatives from constructors RG Carter, the County Council and the Estates Director from the Brooke Weston Trust.
Mrs Carrie Norman, Principal of Peckover Primary said: 'I want to give a very heartfelt thank you to lots of people here today. Firstly to the Governing Body, and particularly David Oliver. They have supported us every step of the way. Matt Isherwood, BWT's Estates Director has been absolutely wonderful. Thank you to Jo German from the local authority who has helped fund the building, we really appreciate that. Thank you to the amazing staff who have worked so incredibly hard over the summer holidays to get it all ready for the children to start. And, of course, a massive thank you to Carters, it was such a pleasure having you on-site. The building is incredible.'
The new preschool, which boasts natural wood fixtures and free-flowing learning zones plus a large outside play area, creates a seamless transition from pre-school to primary education as both buildings share the same site. It means younger children can be dropped off with their school-aged siblings and it helps children to settle into a vibrant learning environment from an early age. The focus from the start has been to ensure that the children are happy and confident, getting to know each other and the team of experienced staff.
Pre-school manager Sam McGovern said: 'It has been a very good start-up, we have happy children and happy parents. We have different zoned areas and the learning is very child-led so they can choose which activities to do. We meet up for group times, which are more focused, and also sit together at mealtimes. We couldn't have wished for a better start for Peckover Pre-school and, in turn, we are giving our children the best start that we possibly can.'
Brooke Weston Trust CEO, Dr Andrew Campbell said 'The staff at Peckover always create vibrant and immersive learning opportunities for our children and this opening ceremony was no exception. I am sure our youngest children will remember it for years to come!
'The Trust is delighted with the pre-school building and I would like to thank everyone involved in its planning and construction, including Cambridgeshire County Council and the Weston Foundation, whose generosity has allowed us to build a phenomenal asset for the community of Wisbech.'
To see a gallery of photos from the event click here.