Brooke Weston Academy hosts 'A Gathering'
14/10/2019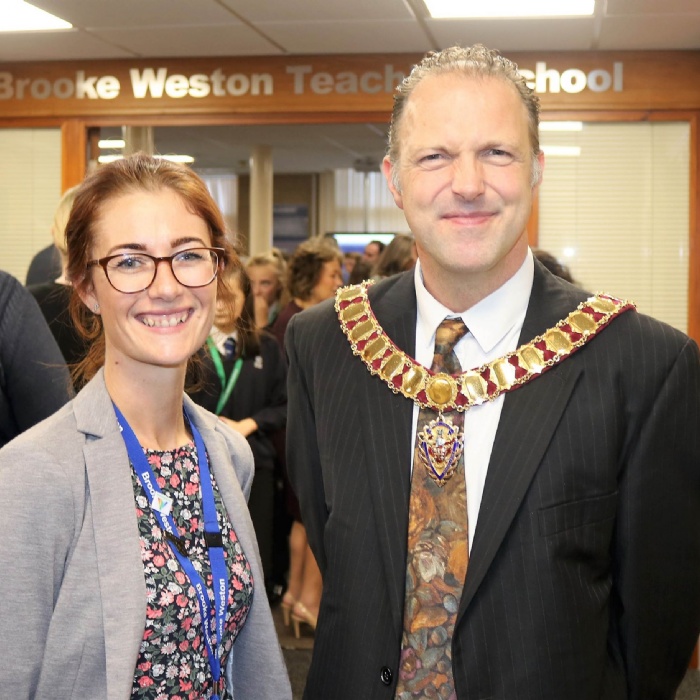 Brooke Weston Academy celebrated the work of its young authors by publishing an anthology of their work which was launched at 'A Gathering' attended by teachers, students and the Deputy Mayor of Corby, Cllr Anthony Dady.
Guests enjoyed drinks and canapes (made by our Food Technology students) at a reception before the formal part of the evening started in the Library.
Principal Pete Kirkbride welcomed the audience: 'Brooke Weston is about so much more than just exam grades and destinations although it is really important that we do an outstanding job of getting our students amazing outcomes, but the things that made me want to become a Principal are events like tonight. The small ideas that have grown into brilliance by our amazing staff. They are the things that make our students realise they are special, amazing and talented young people who can do anything and this anthology achieves this and so much more. I am so proud of the students who have been published, proud of their interest, curiosity and creativity and also their willingness to try, to have a go, to stand up and take a risk on being published. I hope you enjoy this evening celebrating the thoughts, feelings and imagination of our students.'
Literacy co-ordinator Lauren Fitzjohn said: 'Anthology comes from the Latin Anthologia, literally meaning flower gathering. This is how we see our students' literary works; individual moments of beauty. It has been a joy and a pleasure to gather them together to be eternalised for all to appreciate … we have created power in words and wanted our students to recognise themselves as nothing less than published authors. It has been a privilege to collect these works together.
Nine students were selected to read their poems aloud before all of those whose poetry featured in the anthology were presented with a copy, which had been signed by noted author Chris Riddell, who was children's laureate.
Mrs Fitzjohn said: 'He was absolutely astounded by the calibre of the work and wanted to pass his congratulations on to you all this evening. It has been my privilege to help fan these sparks into a flame and I am honoured to present 'The Gathering' to you this evening, the first of many more to come. I'd like to thank each of you for helping to make this such an outstanding success.'
To see more pictures from the event click here.