BWA students learn about digestion
11/04/2019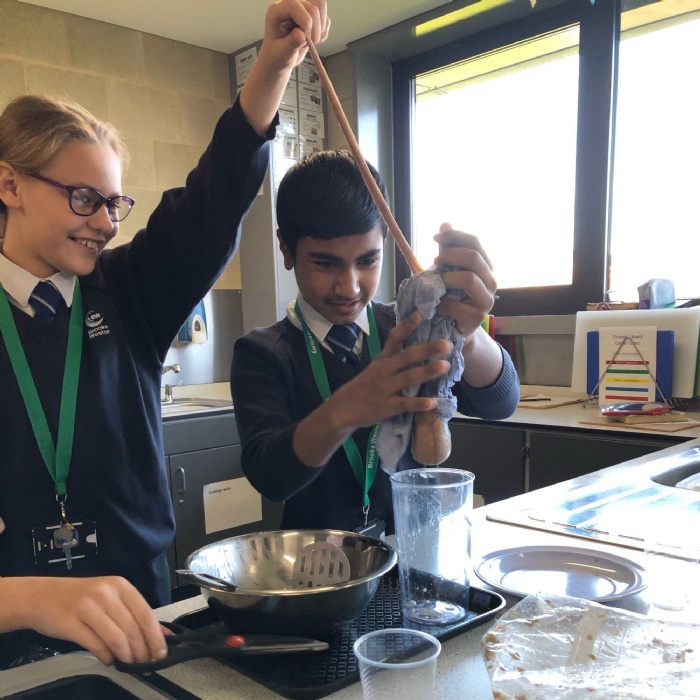 Students at Brooke Weston Academy used sandwiches, soft drinks, tights and a large amount of elbow grease to simulate the digestive process from start to finish.
It was the first time that the practical lesson took place as part of the food technology syllabus and it proved a big hit, emphasising the importance of good nutrition and mimicking the passage of food through the gut.
The Year 7 and 8 students chopped banana sandwiches into pieces, added water as a saliva substitute and then mashed the mixture to mimic chewing. It was then placed into a Ziploc bag with cola added to imitate stomach acid. After a few minutes of squeezing to churn the food it was emptied into tights as a replica small intestine. The substance was squeezed through a paper towel, representing the large intestine, to remove excess water and remaining nutrients before the final waste material was discarded.
Food technology teacher Natasha Chiremba said: 'This lesson was fascinating for the students as it gave them an illustration of how food is processed in our bodies. This is an important part of food technology as it shows how important things like wholesome food, fibre and water are for our everyday health and wellbeing.
'There is a lot of science associated with food technology so this is a good introduction for the students. Everyone needs to know the basics of good nutrition and so this lesson was a great way for them to see how is effectively processed by our bodies by a variety of muscle actions and chemical reactions. It certainly proved a popular lesson and I think it is one that the students won't forget in a hurry!'