Zane's rugby ambitions
21/11/2019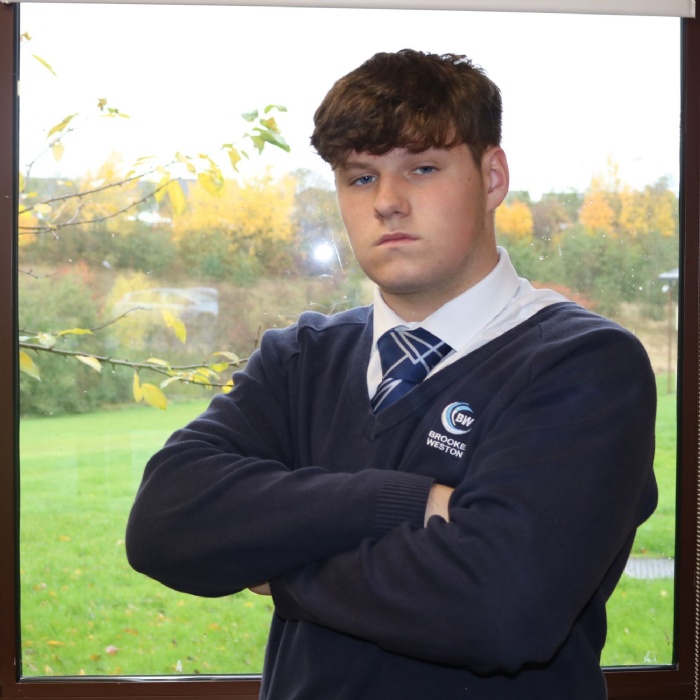 Zane McLeod from Brooke Weston Academy has been training with Northampton Saints' development team for two years and will soon find out if he has made the cut for their U-16 squad.
He has been passionate about rugby since childhood and trains or plays matches every day, either with the Saints or Stewarts & Lloyds RFC in Corby. Zane plays in the No 8 position and the physicality of the game suits his 6ft 1 inch frame: 'You need to be able to carry with the ball hard, attack space and have good passing skills. When I was younger I played football but I was always a bit too big compared to my team-mates so rugby is a better sport for me!'
He has recently completed the latest full day of training with the Saints' development team so coaches can monitor the progress of each player. The 80-strong squad will be cut down to 35 next month to make up the final U-16 team.
Zane, from Year 11, said: 'We were doing individual tasks then moving into games using the skills we had been taught including passing and catching the ball and keeping square when running with it.'
If he is picked for the streamlined team he will train with them for another two years before potentially being offered a contract to play full-time. If he doesn't make the cut he also plays in the East Midlands and the Scottish Excel rugby squads as so could potentially get selected by a club or even spotted for England or Scotland via those routes.
Zane, who plays for the school team, was awarded his BWA Sports Colours at Prize Giving this year.
He said: 'There is never a time when I am fed up with rugby, it is just my passion and I've always been a Saints fan, so potentially to be in with the chance of continuing to train with them and maybe even playing for them one day would fulfil my childhood dream!'