English Lioness plays football with Compass Primary School students
26/11/2019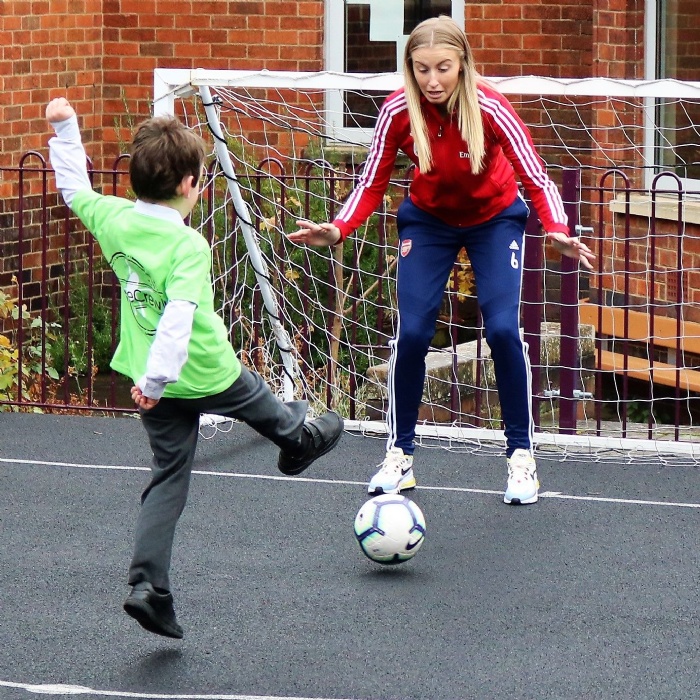 Students and staff at Compass Primary Academy were thrilled to welcome top footballer Leah Williamson who plays for Arsenal and the English Lionesses.
Leah was invited to the school as student Max Koliqi had won a poster competition with the Children's Air Ambulance, to promote their services and their Young People's Club, the Crew.
The Air Ambulance Service said: 'Max is a member of our club that is linked to the Children's Air Ambulance, called #TheCrew and we recently held an exclusive competition for our members to win some time with Leah. Our members were asked to tell us what being part of #TheCrew meant to them and Max sent in his wonderful picture. #TheCrew is an exciting club for children and young people, where they can learn new skills, have access to special events and support the vital work of the Children's Air Ambulance. Max also recently hosted a pyjama barbecue party and raised £45 to support our vital work.'
Max asked that Leah's visit be shared with the school and so he and six friends had a kickabout with the England star and she also gave a presentation to the assembly where she spoke about her football career and answered questions from the students.
Jo Fallowell, Principal at Compass Primary Academy said: 'We are all absolutely thrilled to have Leah visiting the school as she is such a high profile sportswoman and role model for all. This is a special visit for the school community and reinforces our values of Explore, Discover and Dream. It highlights what can be achieved when individuals have big dreams and aspirations. As well as emphasising the importance of healthy living, sport and where it can lead, this event also showcases the dedicated and life-saving work of the Children's Air Ambulance which is such a vital service. We are delighted that Max won this competition, and even more delighted that he wanted to share Leah's very special visit with his school friends.'
To see a gallery of pictures from the visit click here.