Trust STEM competition at Peckover Primary School
12/02/2019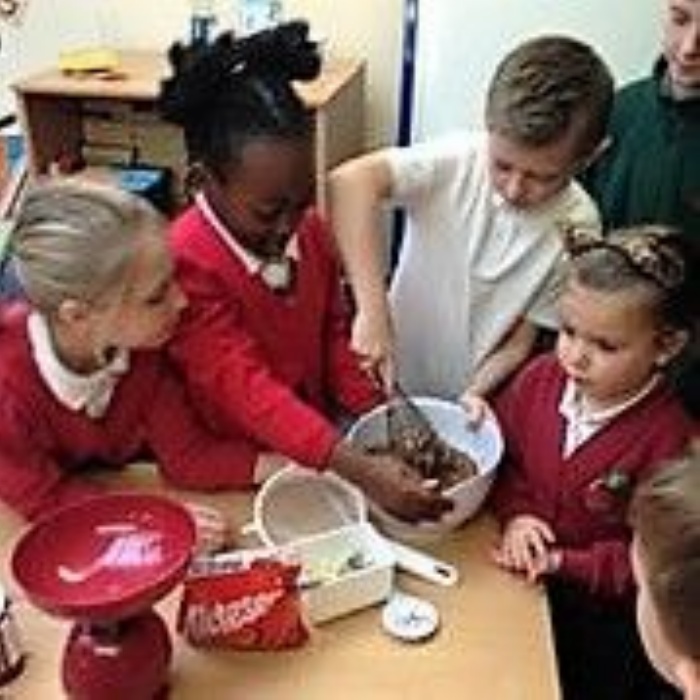 Mixed groups of students from Trust Primary Schools went to Peckover Primary for a DT, Science and Maths based competition.
After an initial discussion on reversible and irreversible changes students were given ingredients and recipe sheet to make 12 Malteser slices. They had to identify the equipment and ingredients needed for the task and weigh them out. Once made the older children had to cost out each of the ingredients for all five teams and then calculate the change from £30. The younger team members had to construct ingenious paper cake stands using paper nuts and bolts.
Aneta Baloghova from Benfield Primary School said: 'The children had an amazing time and learned a lot about the ingredients and how to follow the instructions of the recipe. They observed how chocolate turned into a liquid by applying heat. Also constructing the cake stand out of paper was not as easy as it sounds and the students used their knowledge of shapes to help them achieve some impressive end results.
'The maths challenge was linked to the main task so the students had to work as a team to complete it. Who knew that cutting the cake into equal pieces could be so difficult and would require discussion and some decision making because there is not only one way to do it.'
Oakley Vale primary school said: 'A big thank you Peckover Primary School for a really fun day. The children all had an amazing time. They were full of excitement when they got back.'