CBA wins 'Praise and Raise' category in National Reading Award
12/03/2019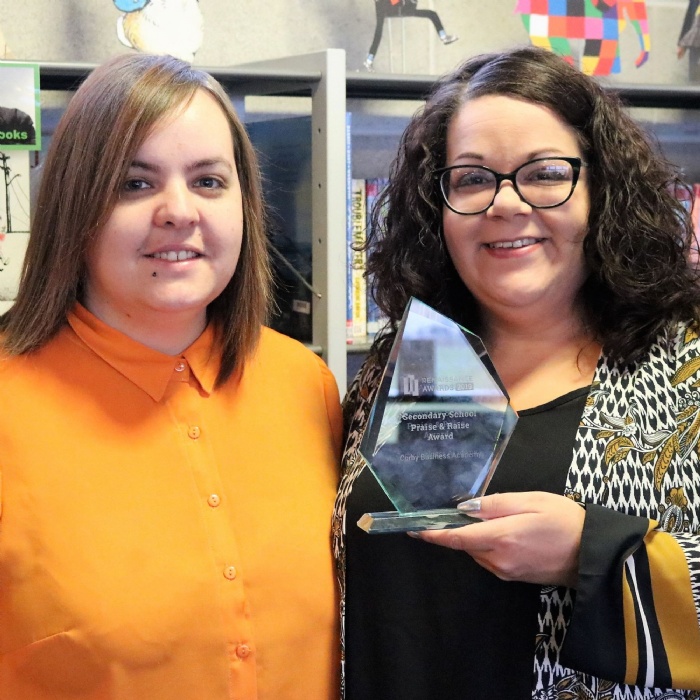 Congratulations to Amy McKay and Christina Mangin whose work to promote reading at Corby Business Academy has won them the 'Praise and Raise' trophy in the annual Renaissance Awards.
The school was one of a handful shortlisted from 6,000 nationwide for running the Accelerated Reader Programme, which encourages students to discover a love of books.
Librarian Amy McKay was presented with the trophy at the award ceremony in London and the prize was awarded as the Academy has introduced a rewards system that encourages students at all reading levels and abilities.
Amy said: 'The awards ceremony was a lovely, celebratory affair. Hosted by author Vashti Hardy, it was a real celebration of reading and literacy support in schools. We're delighted to have won, we're very proud of the AR programme we have developed over the last few years, so it was fantastic to have it confirmed as exemplary by the judges.
'The judges said they were particularly impressed by the scratchcards that Christina produces to provide instant gratification for students who achieve 100% correct answers on a quiz. They were also very impressed by the fact our Millionaires Club is differentiated, which shows a determination to reach and reward all students. As well as a glass trophy that is displayed proudly in the Library, we won a £500 book voucher, which we are looking forward to spending!'
To read more about the Accelerated Reading scheme at CBA click here.