CBA Senior Concert Band performs at Trust primaries
17/12/2019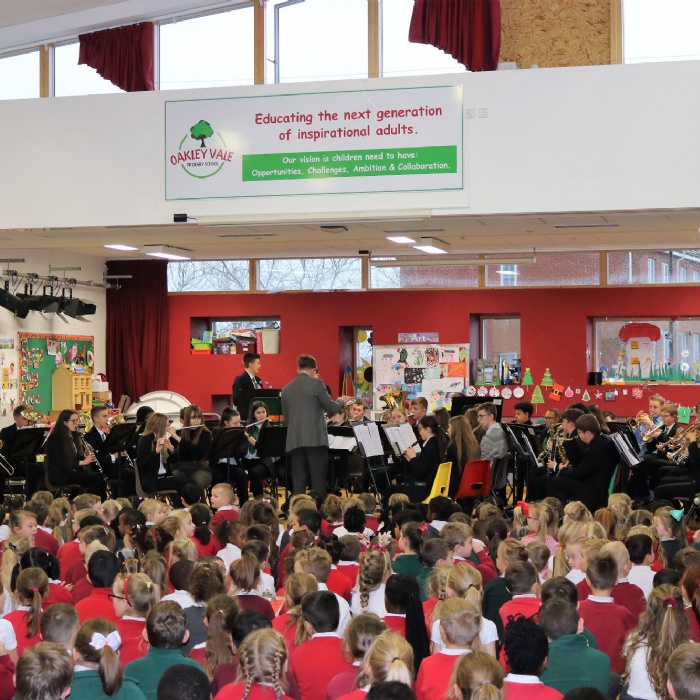 The Senior Concert Band from Corby Business Academy performed at two Trust primaries in preparation for this year's Christmas Showcase.
The band, comprising 42 students from Years 7 to 12, gave performances at Gretton and Oakley Vale Primary Schools, performing a range of festive favourites and a lucky student at each school even had the opportunity to conduct the orchestra themselves!
They performed to EYFS, Year 1, Year 2 and some Year 3 students at Gretton Primary School and to the whole school at Oakley Vale. Student Jamie Hamm from Year 2 at Gretton and Darcie McGovern from Reception at Oakley Vale, were each invited to conduct the band, which they each did with some style.
Year 10 student Alan Zajac, who plays clarinet, said: 'It is very interesting because it gives the younger children an opportunity to see what music is like in a secondary school and how they can advance their musical skills. I like music as there are a lot of trips and it is very enjoyable.'
Director of Music Clive Wears said: 'For the school concerts we had a varied repertoire including Let It Go from Frozen, Carnival of Venice, a trumpet solo by Evie Anderson, Jingle Bells, Frosty the Snowman and the students got a 10 out of 10 for their singing. We also performed Celtic Ritual and asked them to join in with the 12 days of Christmas, which was brilliant! We always do a little tour of Trust primary schools prior to our Christmas concert as it is great for our students to perform and also great for the younger children to see what we do. For some it might be the first time they have experienced live music or seen a band on this scale. I am incredibly proud of our students and they put on two amazing concerts for our primaries.'
To see more photographs click here.