Compass's creative homework challenge
24/01/2020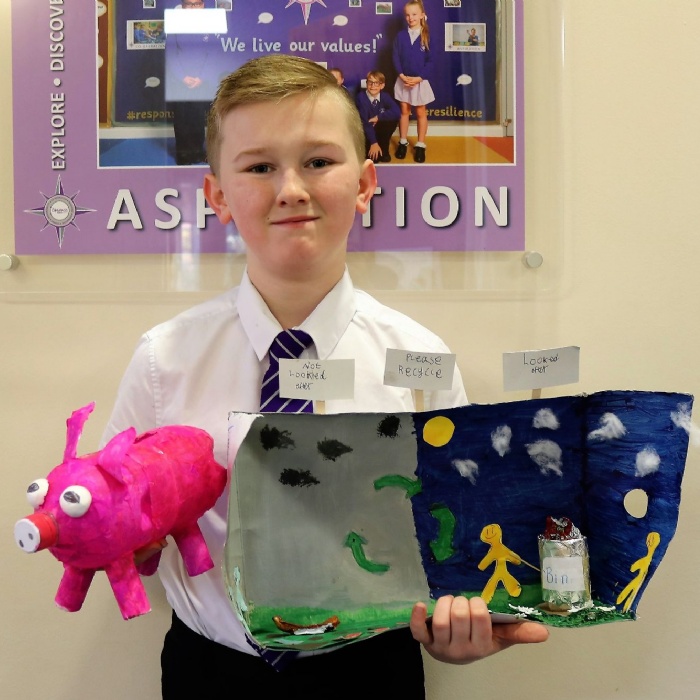 Well done to Compass Primary student Harley Western who has made some ingenious animal piggy banks for a homework project.
The school set students the challenge of creating products made from recycled products. Harley wowed the school with his original creation – a piggy piggy bank! Since then there has been so much interest and positive comments he has also created a unicorn, zebra, tortoise, sheep, tiger and giraffe.
The animals are all made from recycled plastic drinks bottles and are a colourful and practical solution to the homework challenge. Harley, from Year 6, also made a model showing how reusing and recycling helps the environment.
He said: 'My mum posted the pig online and now everybody wants one! I think I will do lots of them because I have lots of paper at home and you can make so many different animals.'
Vice Principal Nicole Andrews said: 'We are so proud of Harley and his amazing designs. We had asked all year groups to create something new from existing materials, or else to recycle something. Harley's ideas are brilliant and he is now making money boxes to raise money to support the koalas in Australia.
'We introduced practical homework tasks for all year groups so that the whole family can get involved as sometimes it can be difficult for parents if they have children in different year groups all doing separate projects.
'We did Beat the Street in the autumn. Up until Christmas the homework task was to read books that they loved together and send photos in. This term's is recycling and next term we will do a recipe book. The final one this year will involve photography. We are looking forward to seeing what our other students come up with for this project, which is as broad as their imaginations.'