BWA student raises funds for Corby Mind
31/01/2020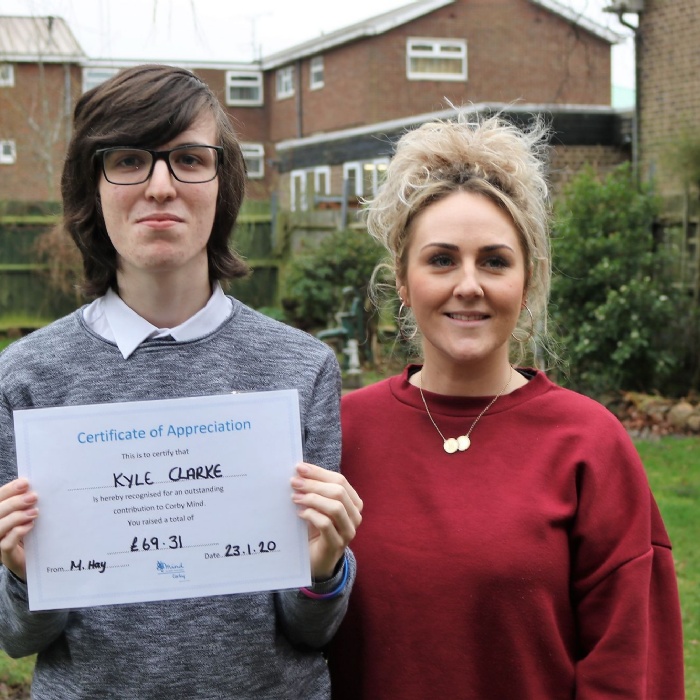 Well done to Sixth Former Kyle Clarke who has donated nearly £70 to Corby Mind after running a fundraising event at Brooke Weston Academy.
Kyle ran an eSports tournament called 'Battle of the Brooke' where players fought in a Super Smash Brothers Ultimate tournament on the Nintendo Switch.
Students made a minimum donation of £1 and were put into categories, with prizes awarded for the first and second placed students. A total of 80 took part and, after the prizes were deducted, a total of £69.31 was presented to Corby Mind.
Kyle, who is in Year 13, said: 'The reason I decided to support a charity based around helping people with mental health was because of a person in the Super Smash Brothers community who went by the name Etika, or Desmond. He was an amazing entertainer and internet streamer who would make really comedic and great content that thousands of people enjoyed online.
'Unfortunately, he suffered mental health problems and ended up taking his own life in June 2019. In honour of him, I wanted to donate to a cause which helped people who may be in a similar situation, and help fight against mental health issues that many people face every day.
'Playing games such as Super Smash Brothers Ultimate is something I enjoy doing with my friends just to unwind and have a laugh, but being able to turn something such as simply playing the game into raising money for a good cause has been incredible and I'm happy that I have been able to raise awareness for mental health and also Corby Mind.'
Morgan Hay, the Fundraising Lead at Corby Mind said: 'We offer counselling, workshops, a debt management group and a crisis café. We are trying to raise as much awareness of our service as possible and we help up to 2,000 clients a year. Every donation goes straight back into helping local people so we are thrilled by Kyle's fundraising. He should be super proud of himself!'
Mr Frank Burton said: 'As both an employee of Brooke Weston Trust at Beanfield Primary School and a Trustee/Director of Corby Mind I was very pleased to see one of our students supporting with fundraising. Corby Mind provides support to a great number of people in the area, and as a charity relies very heavily on the support and fundraising by local people. There is clearly a fast growing awareness of mental health issues in all their forms as our ever growing waiting list demonstrates. Any fund raising that helps to shorten the waiting list is of real positive benefit - well done Kyle and thank you.'